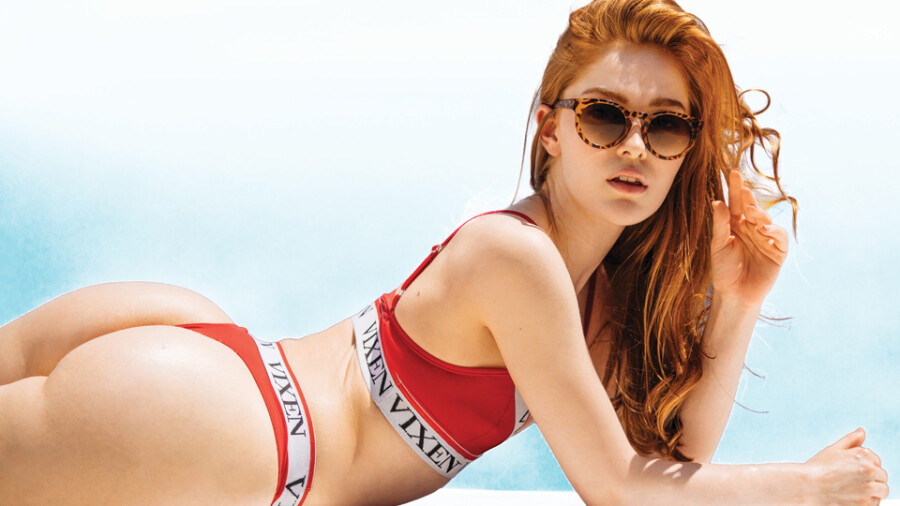 Jia Lissa: Vixen Euro Sensation Embraces Stardom, 'PhD in Jiology'
Insatiable fire-maned star Jia Lissa, who last year gave one of the most memorable (and tearful) acceptance speeches during the 2020 XBIZ Europa Awards after being crowned Female Performer of the Year, remains one of the hottest stars in the industry to this day.
From 2017 to now, the highly selective performer has starred in around 80 scenes, making a splash after signing a contract in 2018 with Vixen as the mega-brand set its sights on conquering the European continent. Under the practiced eye of her Julmodels agency matriarch, Julia Grandi, who won Director of the Year at the Europas in 2020, Lissa has blossomed brightly.
Even though she only rarely graces the screen of studio-shot content, her social media action is undeniable, as fans flock to every joyful post.
Whether she's strumming her ukelele as she belts out heartfelt songs or bouncing up and down with enthusiasm as she sashays around her latest vacation spot on an Instagram story, the likes, comments and engagement metrics are explosive. After all, she's super authentic and somehow straddles the fine line between model-hot and girl-next-door.
The ease with which she has mastered the creator economy is no accident, as she spent years camming on MyFreeCams before delving into solo and girl/girl for studios like MetArt, LetsDoeIt and VivThomas. Soon enough, she was breaking into boy/girl with scene partner Christian Clay under the visionary lens of Greg Lansky, who won multiple directing awards during his time with Vixen, Tushy and Blacked.
Now, she has more than 1.1 million fans on Instagram, over 350K on Twitter and ranks in the top-100 range on Pornhub, where she has amassed 100+ million views and hundreds of thousands of subscribers, not to mention achieving the top 0.5% on OnlyFans.
Catch up with the acclaimed and multi-faceted Lissa, who reveals what it takes to have a PhD in "Jiology" for this exclusive interview.
XBIZ: Tell us what inspired you to become an adult actress and how you have evolved as a performer over the past few years.
LISSA: I was very shy in school. But inside, I was that flashy performer and wanted to become the center of attention. I was also very sexual and these two passions led me onto the path of becoming an adult actress.
Over the past few years, I started to have more complex scenarios and sets for my content and performances, which helped me explore my acting talent. For me, porn has always been art. And I'm an artist.
XBIZ: How has working with the Julmodels agency and its owner Julia Grandi, the reigning XBIZ Europas Director of the Year, elevated your career?
LISSA: Ever since I started doing professional scenes, I've worked with Julmodels and Julia Grandi. She always believed in me and supported me all the way.
I'm immensely grateful and a big part of my success is her work. For me, Julmodels became my second family and it's more than just an agency.
XBIZ: What are a few of the favorite scenes you've shot with Vixen Media Group, that really captured your spirit?
LISSA: My first scene… my first time… will always hold a special place in my memories. It was shot on Mykonos by Greg Lansky. I was so nervous and look how far I've come now!
Also, there are a couple fresh scenes that are yet to come and I can't open up about them yet; they're a secret. But I'll give you a hint: they involved brand-new experiences for me, taking things to a new level.
XBIZ: As a star with many unique talents, including musical performances and comedy, discuss how you engage fans on social media.
LISSA: Yes, music is my hobby and I like to share it on my Instagram. I play the ukulele and write my own songs.
I stopped showing too much sexy content a couple years ago on that platform, which makes me safer from bans, and I think it's always better to show some personality. If they want to see me naked, they know where to go. Being funny and relatable is sexy too!
XBIZ: What kind of independently-produced content sells best for you, both in your subscriber feed and via pay-to-view DMs on premium social media?
LISSA: I was surprised how supportive my fans are. I like to be creative and sometimes I get too weird, but they always give me good sales and tips. That helped me to stay top 0.5% during the last year.
All my content is interesting, though, because I make it fun. And if they can't cum to what I produce, they still enjoy it and get to laugh. That's what people come for when they need to cum, no? To forget their daily routine and problems.
XBIZ: How would you describe the "Jia Lissa" brand and what does it take to have a "PhD in Jiology?"
LISSA: "Jiology" is my made-up science. It's a mix of hedonism, passion for nudism, chemistry and atomic physics. Oops, sorry, anatomical physics. And, of course, madness.
Nobody yet has risen to the PhD level other than myself, because it takes years and years of dedicated mastur… mastering.
"Jia Lissa" is crazy, funny and then sexy, in that order. She is in demand not just in the porn industry, but also with brands of clothing and jewelry who I've had the pleasure to work with.
XBIZ: Discuss the ways you've navigated the pandemic over the past year and a half, staying successful and happy.
LISSA: I'm not going to lie; the first thing I did when I found out that quarantine is gonna hit the world, is I bought a ticket to Bali. I stayed there for a year during the pandemic.
I didn't shoot and just drank coconut water on the beach, enjoying the ocean. I found pleasure in doing sports and meditations. I do meditate before shoots sometimes to "concentrate my chi" for better acting. Imagine me smoking Palo Santo and incense before getting fully glammed with makeup to rock the porn set.
XBIZ: Who are a few of your closest friends in the industry, and how do you encourage each other to thrive?
LISSA: I met Liya Silver in the end of 2018 when we both were starting our own unique paths in the industry. We fell for each other, started living together and made tons of fun content. Our chemistry is insane and you can feel it through the screen. My relationships with people are inspiring, especially when we share the same passions.
XBIZ: As a frequent traveler, what is your approach to balancing personal time on vacation with sharing your journey on social media?
LISSA: I personally feel comfortable with sharing some fun adventures and I do some partnerships with hotels, local restaurants and brands while traveling. Of course, it's important to be careful for safety and not share the specific places you go on social media while you are still there.
XBIZ: What's next for your career and real life, for the rest of 2021 and beyond?
LISSA: Wow, I have a lot happening in my personal life and in my career path. As I said before, music is my hobby and these days I'm focused on preparing more songs. I'm also mainly focused on creating my own content. Imagine not having to worry about copyright issues when I can just use my own music during a live or recorded show, haha. I'm so excited!