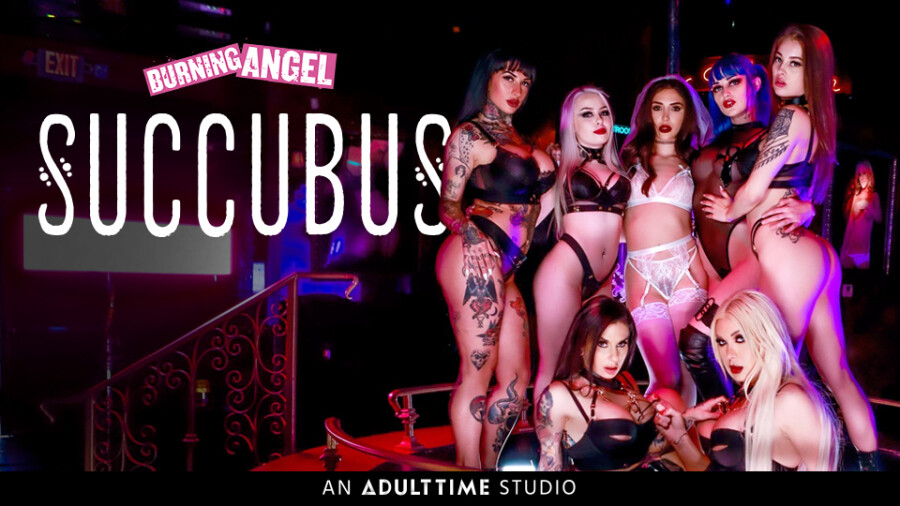 Joanna Angel Unleashes Spooky, Sexy 'Succubus' on Adult Time
MONTREAL — Burning Angel is touting today's release of "Succubus," a new four-part limited series from Joanna Angel starring Small Hands, Jane Wilde and Aubrey Kate.
The scenario explores "a dangerous passage into a seductive underworld with no way back," a rep teased.
The story opens as Michael (Small Hands) and his pregnant girlfriend Mary (Wilde) arrive in "a mysterious town to get married and start a new life. When Mary urges Michael to enjoy a solo bachelor party at the local strip club, Michael gets more than he bargained for when he meets a dancer (Kate)."
Part Two (releasing June 13) includes an onstage threesome between another dancer (Angel) with two men (Mick Blue, Zac Wild) as Mary searches for her missing fiancé; Part Three (June 28) includes "a soulful encounter" between Mary and their church pastor (Tommy Pistol); while Part Four (July 11) closes out the story with "Mary's discovery of Michael," noted the the rep, "which leads to an explosive threeway with Aubrey in the back of the club."
"I'm so excited for the release of this movie," Angel said. "I couldn't be happier with the final product. It's completely on brand for Burning Angel — it's incredibly sexy and incredibly spooky. Thank you to my amazing cast — everyone did fantastic. Thank you, Mike Quasar, for capturing this so beautifully, and thank you, Shawn Alff, my award-winning writing partner, for collaborating with me on this incredibly dark, but campy and complicated script."
Kate described "Succubus" as "the most amazing film [she's] done to date."
"I love this movie. And getting to get my hands on both Jane and Small Hands — that was a dream come true," she added. "By far, the hottest threesome I've ever done. I loved being a soul-sucking stripper — what a fun concept. Thank you so much, Joanna, for continuing to cast me in incredible roles. I love being on your sets."
Wilde noted her role was "so challenging, but so fun."
"It was such an honor to be back in an iconic Burning Angel thriller. Last time, I was in a more campy role being a cheerleader in 'Three Cheers for Satan' — and this time, I got to really tap into my dark side, being an abandoned bride in a town full of a possessed gang. I am also so proud of my sex scene with not one but two 'Performers of the Year' — Aubrey Kate and Small Hands. Such a dream come true. I can't wait for this release; my fans will see me in so many ways they've never seen me before."
"Succubus" is available as a member exclusive on BurningAngel.com and Adult Time.
Follow Adult Time, Joanna Angel and Burning Angel on Twitter.