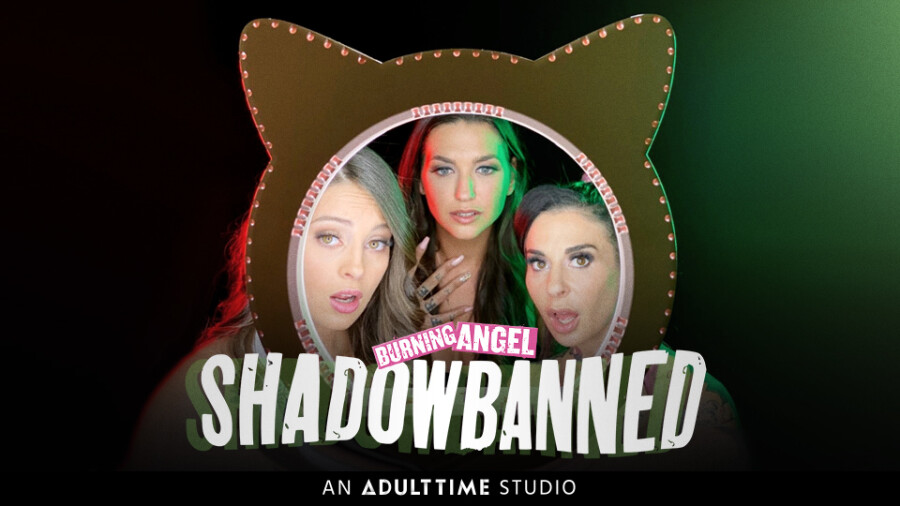 Joanna Angel Wraps Burning Angel Feature 'Shadowbanned'
MONTREAL — Joanna Angel has wrapped production on her latest feature for Burning Angel, "Shadowbanned," set for release later this year on Adult Time.
Jessie Lee, a member of Angel's repertory company, plays an adult film star who has been shadowbanned — described by a rep as "a moderating technique used by sites to block, hide or restrict online content from users without their knowledge or consent" — and subsequently finds herself trapped in another dimension.
"The concept for this movie started off as a typical Burning Angel campy spooky flick, a genre I know and love. After a few rewrites, this actually became a lot more," Angel explained. "While it's still incredibly campy and spooky, I used my own comedic sarcasm to express my anger towards how unfairly social media platforms treat sex workers, and how horribly this affects all of us. It's kind of like an open letter to Instagram — with sex in it."
Angel herself takes on a key role in the story.
"Rocky Emerson, Maddy May and I play influencer chicks who manage to get away with posting whatever we want," she said. "This was an incredibly ambitious project shot in just a few days, and both Rocky and Maddy handled very large amounts of dialogue flawlessly. And of course, Jessie, as always, literally 'killed it' in her role."
Codey Steele and reigning XBIZ "Performer of the Year" Dante Colle fill out the cast.
"The entire cast and crew worked very hard on this, and I'm so incredibly proud of this for so many reasons," Angel enthused. "I can't wait for the world to see it."
In related news, Angel recently wrapped four-part series "Succubus" for Burning Angel. Visit the studio online and follow Adult Time, Joanna Angel and Burning Angel on Twitter.