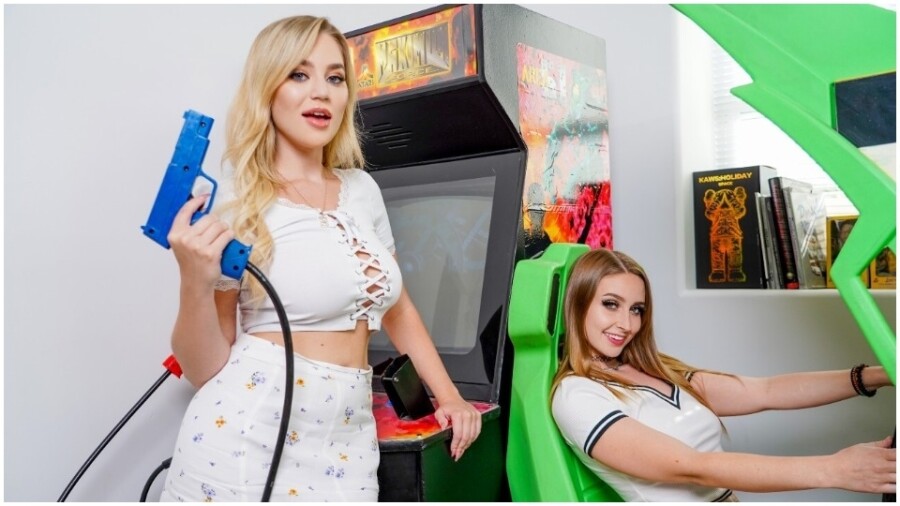 Laney Grey, Blake Blossom Enjoy 'Naughty Dorm Party' for SexLikeReal
LOS ANGELES — Laney Grey and Blake Blossom star in "Naughty Dorm Party: Dope Arcade," a new VR fantasy from SexLikeReal.com, director Alex Nash and director of photography Evan Redstar.
The action opens with Grey and Blossom as "lusty coeds" who are invited to a classmate's dorm room to check out his retro arcade games and discover a hidden camera to capture upskirt shots. Instead of getting mad, the comely pair decide to satisfy him.
"The 90's-style arcade room setting brings a nostalgic and devilishly playful atmosphere to this dreamy threesome adventure," Nash said. "Through VR's engrossing power, we bring viewers back to the days when the arcade was not only a popular hangout where video game enthusiasts could enjoy the latest electronic entertainment, but also a place where young people were allowed to fantasize and freely explore their passions and interests."
"Laney and Blake deliver sensational performances as the drop-dead gorgeous college girls that turn one voyeuristic gamer's daydreams into mind-blowing reality," he added. "Your personal arcade room, a private hidden camera show, two breathtaking beauties begging for your cock and time to kill. What more can anyone desire? This unrelenting 3D filth-fest is a captivating wish-fulfillment escapade that VR fans will genuinely love."
Additional details about "Naughty Dorm Party: Dope Arcade" can be found here.
Follow Laney Grey, Blake Blossom and SexLikeReal on Twitter for updates.