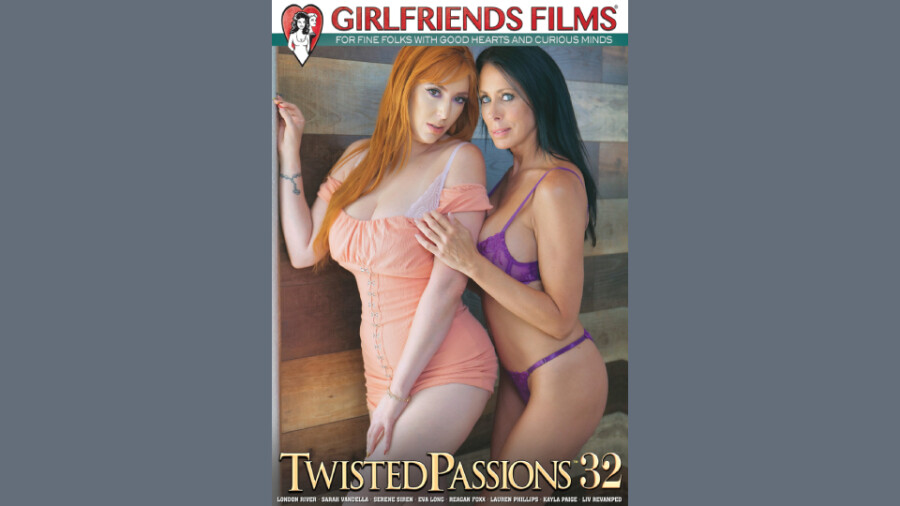 Lauren Phillips, Reagan Foxx Topline Girlfriends Films' 'Twisted Passions 32'
VALENCIA, Calif. — Girlfriends Films has released "Twisted Passions 32," starring cover models Lauren Phillips and Reagan Foxx.
Directed by B. Skow, "Twisted Passions 32" is three hours long, with a cast that includes London River, Sarah Vandella, Serene Siren, Eva Long, Kayla Paige, and Liv Revamped.
Skow complimented his cast on Twitter.
"You women are a perfect example of how this business should be," Skow said. "On time, great wardrobe, nails and skin flawless, great acting, and man what a scene! Thank you for the great day."
Long also posted a selfie on Twitter, saying "I'm a little upset that I didn't get a pic with my scene partner for today's shoot. Can you guess who it was? She's blonde, fit, and the best Lesbian Performer in the biz."
Said scene partner Siren responded in kind.
"Oops, no pics today, 'cause I was too into my pairing! Eva Long and I are a duo for the eons. It was pretty perfect! Girlfriends Films, and B. Skow, thanks for making it," she said.
In addition to scene partners Long and Siren, other pairings include Phillips and Foxx, River and Vandella and Paige and Revamped.
"Twisted Passions 32" is streaming exclusively on VOD here; follow Girlfriends on Twitter.