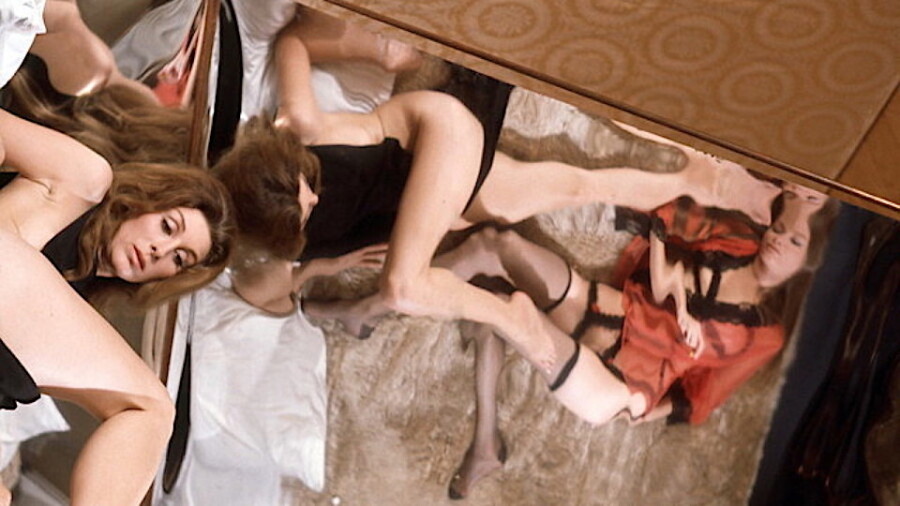 'Like a Sex Time Machine': The Rise of HD-Remastered Vintage Porn and Erotica
LOS ANGELES — The decline of physical formats like DVDs and Blu-ray among mainstream entertainment consumers has paradoxically resulted in an unexpected feast of availability for cult, fringe and obscure movies, both via streaming and VOD services and specialty Blu-ray for collectors — a phenomenon that also includes the classics from the Golden Age of pornography (and erotica) in the 1970s and '80s.
The trend resulted in odd finds like long-unavailable Walerian Borowczyk's "Eurotica" classics being unexpectedly beamed into Apple TVs worldwide via Netflix, or a confusing collection of random Italian giallo or 1950s Japanese film noir being snuck into homes via Amazon Prime.
In the world of adult the digitally remastered resurrection of many titles that were only whispered about in the days of exclusively physical releases, resulted in mainstream VOD services like HotMovies striking deals with restoration houses and cult movies distributors, and indie powerhouses like Pink & White Productions' streaming service PinkLabel.tv deputizing an experienced art house curator to buttress their LGBT erotic classics menu.
XBIZ spoke with HotMovies' Mike Kennedy and PinkLabel.tv's classics curator Jenni Olson about this trend, which is both important in historical/archival terms, and as a way to remonetize rights holders' dormant IPs.
'It's Like History or a Time Machine'
HotMovies' Mike Kennedy pointed out the pioneering work in getting these vintage titles out done by DistribPix, a film archive dedicated to independent restoration and distribution since the mid-1960s.
"We noticed DistribPix was probably the first company to start exploiting these vintage titles," Kennedy explained. "They had some of the old classics, like Radley Metzger's 'The Opening of Misty Beethoven' (1976). They had it for broadcast, and then they did the whole Blu-ray thing."
Back in the days when physical releases led distribution schedules, Kennedy noted, the VOD transfers started shaping up as an aftermarket. "What we'd do is we'd rip apart the entire DVD and release each little section of it — behind-the-scenes, the interviews — and then we would feature each as separate scenes," Kennedy explains. "We got a really good response right away. These vintage titles weren't your normal, run-of-the-mill 'Big Boob Lesbian Stepsister 42,' and I think people were really excited."
Back in April, as XBIZ reported, HotMovies.com announced they were offering the exclusive VOD debut of remastered classic films from the "Golden Age of Porn."
Kennedy admits he welcomed the remastered titles fondly into HotMovies for nostalgic reasons.
"Myself, I grew up watching the 1980s porn, and some of the 1970s," he told XBIZ. "To see those classic movies so clear, that's the thing," he says about the crucially improved picture quality. "It's like history, or a time machine. I love looking at the decor, and the furniture. It brings all that feeling, it really gives you an idea of what the reality was back then. You see the way it really was and not the way people portray now when they do a period piece."
The new digital transfers' image quality improvement, he said, is notable compared to not only the original VHS releases of some of these films, but also early-2000s DVD rips.
"We at HotMovies have been doing this for a long time," Kennedy explained. "We started encoding a lot of stuff from VHS, even from Beta, and even from the DVD stuff, back in the day — and now you look at that stuff we put out on DVD 15 years ago and say, 'That looks like crap.'"
"Compared with the way we are showing these porn classics on HotMovies right now," he added, "what we got now it's unbelievable."
Saving Indie Queer Porn History
But image quality is not the only boon of the current vintage porn availability bonanza: for more independent or alternative titles, the sheer availability worldwide via the internet is enough reason to celebrate — and give thanks to the people making it available.
Filmmaker and film historian Jenni Olson was hired by Shine Louise Houston to run PinkLabelTV's Classics Acquisitions division. "Jenni is single-handedly responsible for growing our collection of classic and vintage adult films," said Pink & White's Jiz Lee. "Many of these movies, particularly the LGBTQ titles, are rare and hard to find, so giving them a new online home to be enjoyed by contemporary porn audiences has been truly special."
Olson is also responsible for The Bressan Project, which remastered and released films by the late filmmaker Arthur J. Bressan Jr., including indie gay classics "Passing Strangers" (1974) and "Forbidden Letters" (1979).
"PinkLabel.tv enlisted me a couple of years ago to work on building out their 'Classics' library," Olson told XBIZ. "I helped them secure from different rights holders a bunch of really standard classics in gay adult work like work by Wakefield Poole, Arthur Bressan, Jack Deveau, Tom DeSimone, Arch Brown and others."
Bressan, Olson explained, "made films in the 1970s and 1980s, a lot of gay adult stuff and then some straight adult, and then documentaries and independent features and he died of AIDS in 1987. We specifically launched 'Passing Strangers' and 'Forbidden Letters' on PinkLabel last summer and they both had been unavailable since they were released on Betamax, so that was pretty exciting. We did a really beautiful digital restoration and we're gonna do a physical release, a Blu-ray release, this summer."
Olson was also thrilled to share with the world a collection of lesbian-made lesbian porn from the 1980s from the the company that ran On Our Backs in the '80s, a treasure trove known as the Fatale Media collection.
"Fatale had their 3/4 inch masters, and none of it had ever been digitized," Olson said. "We worked with the UCLA Film and Television Archive to restore them. PinkLabel incurred the cost of all the digitalization, which was really great. PinkLabel is an amazing company — they saw it as an important thing to do and were confident that they were going to be able to recoup the cost of that."
Olson explained that "a lot of times titles can't even get into a digital format because they right holders cant afford to do the work [to get them up to standard] and nobody else is gonna gamble on it. PinkLabel did that and we had them professionally scanned."
The Money Equation for Reissues
But even if we can all agree that archival work is historically important, especially for marginalized communities, with porn history there's the further issue of stigma when acquiring grants or distributing the material and locating dwindling outlets that don't discriminate against sexually explicit material. This fundamentally affects the economic equation.
"It's a really difficult [equation] to make happen," said Olson, who has encountered the same roadblocks with adult as well as mainstream film companies. "I think that the Fatale material literally would not have been possible without Shine making it happen. She cares about it — she's running a business, which she cares about sustaining and generating revenue — but that's not all she cares about. Whereas many other companies would look at those Fatale tapes and say, 'Well — I could make way more money if I did something else,' Shine said, 'I don't wanna do something else: I say this is this important, and we'll make the money back eventually, and we'll make some extra money, and it will be an important thing that we're doing.' It's part of an ethos of doing business, where you care about the community and it's the nature of the whole Pink & White website and everything that they're doing: representing underrepresented communities — and they do make a business of it."
Olson also mentioned the work of Joe Rubin from cult film preservation and releasing outfit Vinegar Syndrome, and Frank Jaffee at Altered Innocence, as more proof that people can run a business that caters to fans of gourmet erotica.
"I'm working with Arthur Bressan's sister, who runs his estate, and none of his films were scanned," Olson told XBIZ.  "So it was this dilemma: How can we get them into a digital format and then be able to exploit them? Vinegar Syndrome did all of the scans of 'Passing Strangers' and 'Forbidden Letters' for free as a favor to the community. It wouldn't have happened without them, as the estate didn't have $10,000 laying around."
The digitization and remastering costs that would-be digital distributors would have to recoup can be anywhere from $10,000 to $150,000, depending on how much restoration work needs to be done in terms of color timing and sound.
An Ever-Changing Market
HotMovies' Mike Kennedy agrees with Jenni Olson that the cost of restoration is going to determine whether reissues continue to be viable.
"It used to be they'd come out with DVDs, they would distribute those DVD as much as they could, they'll be out there for six months, nine months, maybe a year, and then they'd release it on VOD," Kennedy explained.
"So they always made their money back from their DVD reps and the VOD was always the aftermarket and it was extra money for them. But things have certainly changed. They're not doing the DVD anymore — the sales aren't there to warrant it, so they're going direct to the VOD — which is nice but I don't think the money is the same."
Kennedy even recommends that would-be distributors put their material on as many platforms as possible, even on HotMovies' main competitors, AEBN and AdultEmpire (which he describes as "the three that are left").
"When we say we wanna do an exclusive with somebody, we are now talking about holding them only for a couple of weeks before any of our other competitors get it," Kennedy explained. "Other than that, I strongly encourage my clients get the titles onto as many platforms as they can to recoup the cost of making it or recoding it."
Kennedy also vouches for the pristine quality of the paid VOD versions of these vintage titles over the illegal tube site rips.
"We still worry about piracy," he admitted. "I keep an eye out for anything new I put out to make sure it's not on the tube sites. Most of the time it's some schmuck who had the movie and decided to rip it and copy it and upload it there for whatever reason. Usually from the VHS copy. You don't even know if it's the whole movie."
Story is King
As for the feedback he's been getting about the vintage rereleases, Kennedy continues to be amazed that the Marilyn Chambers and Christy Canyon titles of decades past still bring in the paying fans.
"It's also the plotlines," he said. "It's how much they really matter to everyone. All the [popular] performers are exactly who you'd expect them to be. And there's the whole 'family thing,'" by which he means the unstoppable popularity of the "family taboo" genre, as in the classic 1980 film "Taboo" and its slew of sequels.
"Anything that has a family theme, it always blows up," Kennedy said. "I don't get it, but it is what it is, and it has always been."
And then there's been the rise of the MILF. "In the early 2000s, you'd be rock solid if you did 'Teen Cheerleader Babysitter' or something like that," Kennedy pointed out. "As time has gone on, it's unbelievable — everyone wants MILFs"
HotMovies is making their restored titles available for streaming directly onto home screens through their Roku app and the company is currently developing a player that can facilitate streamcasts.
"We might charge a little higher rate for the vintage titles, because they're in HD," Kennedy offered. "It looks so much better than anything else and a lot of times makes a little bit more business for us. Our fans don't care how old is; they care how good it looks. And from our standpoint: the story matters."
Kennedy can prove this hypothesis with internal stats. "We have things that gives us an idea of what people are watching and I'm always amazed that the 'heat map' shows that people come back to the 'set-up.' The cumshot may always be the blockbuster part, but then it's the set-up. They're watching the plot part because that's what giving them context and makes the scene hot."
"For a lot of these classics, when we put them in this HD format, you have the great stories and people get naturally pulled into it. These are classics because of the quality of the movie itself. A lot of the stuff is timeless."