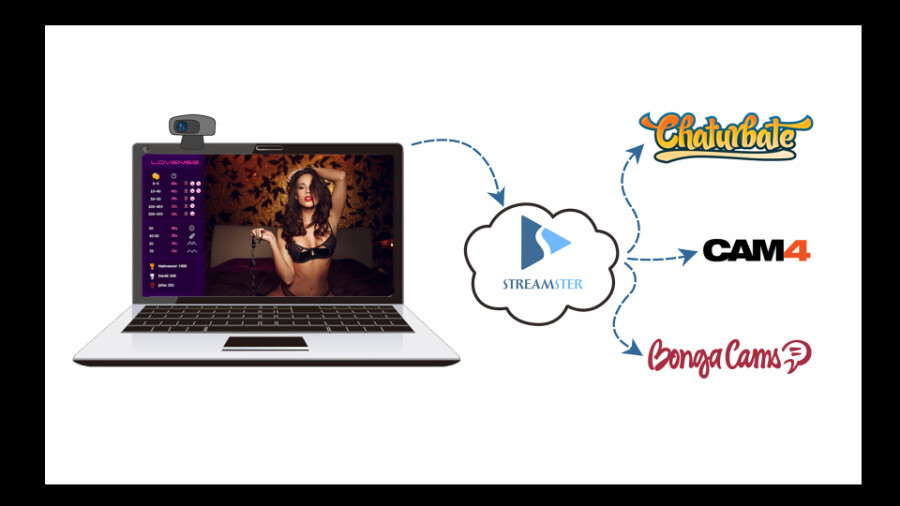 Lovense, Streamster Announce Partnership
SINGAPORE — Lovense has announced a partnership with broadcasting service Streamster that allows multi-streaming on up to 10 platforms simultaneously.
"Streamster support for Lovense devices and camming software will simplify setup for performers and provide a pleasant and trouble-free experience using Lovense interactive toys on multiple platforms while maintaining full tip-activated responses and remote control functionality," a rep explained.
"A huge advantage of the Streamster service is the method used to distribute the video stream. A single video stream goes from the performer's device to the Streamster cloud server, where it is divided into many streams and sent to all broadcasting platforms," noted the rep. "This way of multi-streaming does not overload the performer's computer and allows them to stream in HD quality on different platforms at the same time without powerful hardware that would otherwise be required."
Streamster CEO Sergey Yashchenko said their brand is "already trusted by thousands of streamers, including webcam models and studios around the world."
"By integrating Lovense services, which is definitely the first choice of webcam models, we will be able to give performers many more opportunities to increase earnings and simplify their work," he added. "That is our ultimate goal."
A rep explained Streamster operates on a freemium pricing model. The free version allows a performer to multi-stream to up to two platforms at once, while three or more options are available in paid pricing plans by monthly subscription or pay-per-use billing.
The rep added Streamster currently supports Windows PC; support for Mac and mobile devices is forthcoming.
"We are constantly working on new services and solutions for performers who have chosen Lovense toys. The integration of the Streamster multi-streaming service is a logical step in this direction," Lovense CEO Dan Liu said. "We notice that the widespread ending of lockdowns and restrictions have negatively affected the traffic of cam sites, and services like Streamster are becoming a necessary tool for webcam models to maintain a decent level of income."
Visit Lovense.com and find the company on Twitter for additional details; the "Streamster toolset is compatible with the Lovense Cam Extension version 30.3.2 and above, and Streamster 4.0.0 and above," the rep said.
Find Streamster online and on Twitter.