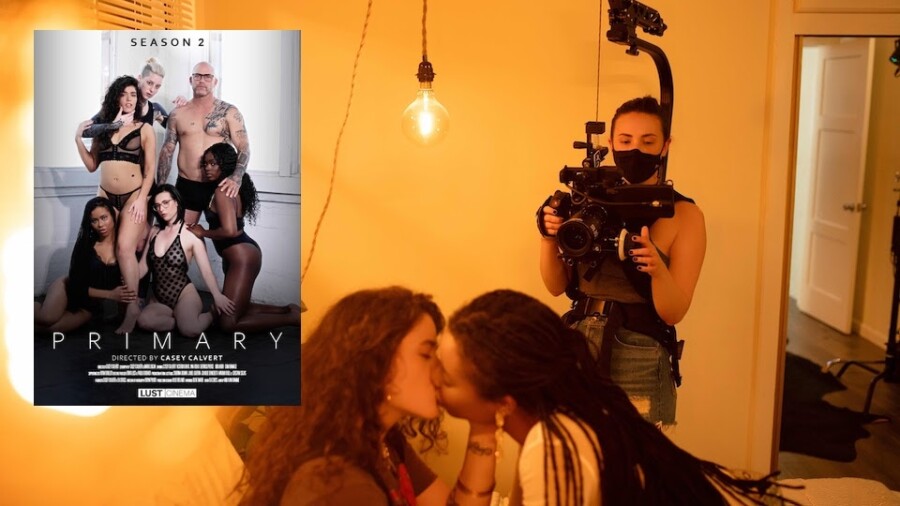 Lust Cinema Debuts Season 2 of Casey Calvert's 'Primary'
LOS ANGELES — Lust Cinema has announced the debut of "Primary 2," the followup season to exclusive contract director Casey Calvert's series about "polyamorous millennials navigating through trials and tribulations of modern day relationships."
The first episode will be released tomorrow.
"Following the success of the first season, 'Primary 2′ continues to develop the stories of two non-monogamous couples' journeys of love and lust," said a rep, describing the series as "a beautifully shot inside look at the highs and lows of modern day relationships."
The six new episodes feature season one vets like Kira Noir, Ana Foxxx (both 2021 XBIZ Award winners alongside Serena Blair for "Best Sex Scene – All-Girl" for the previous installment), Derrick Pierce and Small Hands, alongside new faces such as Dante Colle, Victoria Voxxx, April O'Neill, and Cam Damage — and Calvert herself in a performing role.
"From threesomes to heartbreak and everything in between, this explicit adult series explores non-monogamy by highlighting the importance of open communication, boundaries, and vulnerability when navigating multiple relationships," the rep explained, noting that the series also touches on gender identity and gender politics."
Director Calvert described "Primary 2" as "a labor of love from everyone involved. I had an absolutely incredible cast and crew, and everything just clicked. I'm so proud of how it turned out, and I can't wait for everyone to see it. I'm so in love with these characters, and this story."
"Thank you to Erika Lust and Lust Cinema for believing in me and giving me the space to create," Calvert added.
Victoria Voxxx revealed that "being a part of this project provided me with an opportunity to express a very familiar perspective, while also providing me perspectives that are entirely new. I am confident the series will do the same for its viewers!"
For Ana Foxxx, "working on Primary felt like working on a mainstream set, and I love that. I can't wait for everyone to watch."
"The direction that the story is progressing is intriguing," added Derrick Pierce. "Having such a seasoned veteran performer and director in Casey Calvert makes the experience that much more rewarding. Derrick Pierce
Kira Noir said she was honored to be a part of this playing Eva and was "so proud of Casey and her kick ass way of directing and performing all at once."
Series newcomer Cam Damage said, "I'm beyond excited for everyone to see the new storylines this season has to offer."
After the first episode's debut tomorrow, the remaining five episodes will be released every Friday on Lust Cinema until September 3rd.
To watch "Primary 2," visit Lust Cinema.
For more from Lust Cinema and Casey Calvert, follow them on Twitter.