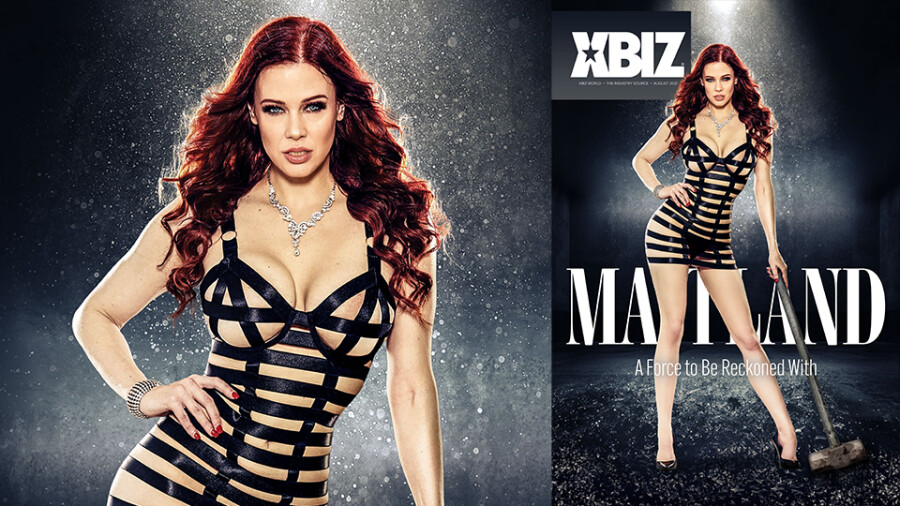 Maitland Ward: A Force to Be Reckoned With
Stardom has never been more measurable and the creator economy has never reigned so supreme. Newcomers arise from nothingness, strumming a guitar, cracking jokes or striking a chord after a breakout Netflix series role, and before you know it, their social media explodes into a non-stop digital media monolith that casts a vast shadow. And then, they might get cancelled the next week after committing a faux pas. And then, people may forget all about the drama, or them, and life carries on as before.
So when an actress like Maitland Ward comes along wanting to do porn, with mainstream credits spanning the iconic coming-of-age series "Boy Meets World" that was a staple of television audiences in the 1990s, soap operas like "The Bold and the Beautiful" and even a role in the Wayans Brothers comedy flick "White Chicks," folks arched an eyebrow.
By folks, I mean adult industry notables, who are very wary of outsiders deciding to do some pornographic tourism. After all, with celebrities dipping into OnlyFans for the sexy clout, was this a stunt? Would she abandon the industry and badmouth it afterwards?
But then, Ward stuck around. She broke every record on Blacked.com. She broke every record for Fleshlight. And even though she seems to have been here only two years, she's quickly become the face of Deeper.com as its Mistress Maitland contract star, as much the reason for the brand's ascendancy to greatness as its founder Kayden Kross, with whom she is now dear friends.
So how and why has she managed to sweep into this beloved underworld, this carnival of often capricious personas, and rapidly establish herself in headlines within and without our carefully guarded walls?
Well, to answer that, it should be noted that she didn't just come out of nowhere two years ago. She had already been shooting naughty photos with geek-friendly cosplaying hijinks that got her kicked out of a convention or two, kicked off a platform or two and catapulted her earning potential to the stratosphere.
It should also be noted that she has serious writing chops, having written screenplays and studied the written word from UCLA to New York City workshops, from a full-fledged storyline about an Amish mafia to advice columns in this very magazine, mainstream TV series "The Big Time" in the works and a Simon & Schuster book deal for a memoir.
With brains and beauty, experience and dedication to her craft, not to mention a shrewd mind for assessing analytics, plus identifying the power players and knowing when to align herself with them or shake up the status quo, Ward is the full package.
I knew all this, of course, as I made my way through the labyrinthine halls of the Beverly Hills Hotel in July for what would turn into a three-hour lunch, an hour-and-45-minute interview and more than a few visits from our visibly agitated waitress wanting us to get the hell out of there already, because we had exceeded the allotted time for dining.
I knew all this, because she had already wormed her way into the adult industry's good graces, into my own viciously maintained circle of trust and into the hearts of just about everyone of worth in the biz. She did this not in an unscrupulous manner, mind you, but in a "Holy hell, this woman is a force of nature so I better make sure to align myself and my brand with her" kind of way.
After all, Ward has seen it all. She's 44 years old, by the way, which is a fact I love springing on people when I talk about her to watch their reactions of surprise, because you'd be hard-pressed not to guess she's a decade younger. With that comes a couple decades worth of navigating Hollywood and the theater scene in the Big Apple, cycling through a motley collection of publicists, agents and directors, and developing equal parts saintly patience and devilishly ambitious impatience… both of which you need to move fast, with the care to make it last.
As she waltzed through the Cabana Cafe that surrounds the Beverly Hills Hotel pool, the clinking of eating utensils and wine glasses accompanied the low hum of conversations and the nearby splashing of the azure pool echoed all about her. At a statuesque 5'10" in height, the ocean-eyed and strawberry-blonde star drew more than a few assessing gazes. After all, this was the kind of L.A. hangout where you never quite knew if a rich business mogul or celebrity might be at the table next to you, sipping on an overpriced latte or munching on some gluten-free delicacy.
Radiant as ever, she oozed charisma and down-to-earth charm. Even having encountered her face-to-face at award shows, fancy dinners, industry parties and now for a lunchtime interview, I was still struck by how eminently kind, alluring and sharp her presence is. To this day, I couldn't tell you if it's all just a master class in playing the role of bewitching Hollywood-trained confidante-that-makes-you-open-up, or if she's just that damn nice. If I'm being honest, I really do think she's just that damn nice, so long as you're nice in return.
We bantered a bit about industry politics, current events and what we were looking to order from the menu. Then we got into the nitty-gritty, and three caffeine-filled, wallet-punishing cappuccinos later, I had plenty of material to work with. In fact, there was way too much material and some very hard decisions to be made about what to cut and what to highlight, because her life and journey are without a doubt unique. And that's saying a lot, because we've all witnessed our fair share of adult crossover stars appearing in mainstream movies and shows, or nose-in-the-air folks traipsing through porn sets and laughing about it later as they thumb through stacks of bills and marvel at the social media boost.
But someone of Ward's caliber? Someone who is the whole enchilada? Someone who walked away with coveted XBIZ Awards trophies in hard-fought categories like Best Actress just a few months into the game? She's a once-in-a-lifetime opportunity. She's the living bridge between mainstream and adult, a bona fide ambassador for the entire community. Between the frequently unfair media, legislators and pundits who just love beating us down, making us out like a caricature freakshow of shady operators and rogue outfits, sometimes we can't catch a break. Which is tragic, because we're more corporate, ethical, responsible and performer-driven than ever before.
Then again, her timing is perfect, because this is the absolute best era in which to take things to the next level — and her story is damn near entertaining as well. I hope you enjoy reading it as much as I enjoyed hearing it during an afternoon with one of the most fashionable, easygoing and intellectual women I've ever met, on par with her Vixen Media Group teammate and frequent Director of the Year, Kayden Kross. Speaking of Kross, I should note that after the Simon & Schuster news came out a few months back, she tweeted, "Where did all the ceilings go @MaitlandWard?" and that, in many ways, inspired the cover art.
Because Ward does wield a sledgehammer. Heck, she is a sledgehammer. And she has pulverized any glass ceilings that may have yet remained, incandescent in the raining shards of luminous dust billowing in her wake, their multi-hued splendor like ashes at the feet of a redheaded phoenix.
HOLLYWOOD ROOTS
Growing up, Ward had a very simple life in sunny Long Beach, California, which she described as "cookie-cutter." Her parents, married for 45 years, still live in the same house they did when she was a kid, and while they encouraged her to "be a good girl" in their casual Christian kind of way, they weren't terribly fundamentalist. Besides, she was a little shy.
"I wasn't so in touch with my sexuality as a teenager, or even in my early twenties," she explained, brushing away a strand of sunlit hair. "It took me a while to get to this place where I am."
Ward recalled that once her braces came off at the age of 15, she felt a burning desire to act. With experience in community theater and a few acting classes under her belt by then, she got an agent and made a few appearances on talk shows with the likes of Leeza Gibbons and Rolonda Watts. This earned her enough hours to join the American Federation of Television and Radio Artists (AFTRA, now known as SAGAFTRA since its merger with the Screen Actors Guild).
She also auditioned for "Saved by the Bell," though she didn't end up getting the role. "I think it was for a girlfriend of Screech — something to do with him," Ward said. "I remember having to play a nerdy kind of person. It was not the Tori Spelling episode where he had the fling with the nerdy girl. He was in love with me or something. I didn't get it."
As time passed and her agent wasn't quite delivering enough opportunities, she took the initiative and signed up for an acting workshop with "The Bold and the Beautiful" casting director Christy Dooley. Ward was an avid soap opera fan, after all, having watched them often with her mother.
"So, I went to the class, and I thought it was going to be more people my age, but it was all women in their thirties," she reminisced. "I was a little youngster, but they were looking to cast a teenage girl in 'The Bold and the Beautiful.' And I guess I proved my chops in class — probably because I knew soaps so well too. I knew what facial expressions they wanted, instinctively, having watched them over the years. So Dooley asked me to audition for a new part that was coming up, and I ended up getting a contract. I was on for three years."
She played the character of Jessica Forrester, the niece of the affluent main family. But since Forrester was from Iowa, Ward had to portray her as an innocent girl unaccustomed to such a fancy life.
"And I lived in the mansion," she said. "I was like the wide-eyed girl coming in from the farm, literally."
Maitland Ward
Splitting her time between attending class a couple of days a week and then working three days a week, Ward continued portraying Forrester while she finished her junior and senior years of high school. She was a very good student and became co-valedictorian with her best friend, delivering a rousing graduation speech, where several cast members actually came out to support her.
"While I was doing my valedictorian address, I had my soap opera people in the audience," she shared. "And it was funny, because I was doing a one-act school play at the time; I don't even remember what it was. But the two guys who were my love interests on 'The Bold and the Beautiful' came to my performance of the one-act play as well. And they were like 25 and 29, and I was 16. I was playing it cool; I was like, 'Yeah, I have these guys in the audience.'"
After graduating, she headed to college, where she studied theater arts, writing, literature and political science, as she explored various majors. She even joined sorority Sigma Kappa and finished off her last year of "The Bold and the Beautiful," which provided her with a healthy social life.
"Being in the show gave me friends," Ward said. "It wasn't easy for me to find friends. And also, I had to go to school at night most of the time. So, even though I was in college, I still was balancing both worlds of work and school."
Once her time as Jessica Forrester came to an end in 1996, she had a few one episode appearances on shows like "Home Improvement" and "USA High," as well as a role in an NBC television film called "Killing Mr. Griffin." Then, she auditioned for a pilot of a show later known as "Zoe, Duncan, Jack and Jane," which was helmed by the executive producer and team from "Boy Meets World."
"It was actually Selma Blair who got the role," Ward recalled. "We were very different types. She was more dark. Her persona was different. I was lighter and airier. So, they wanted her for the role. Mind you, the executive producer wanted me for the role, but since the network wanted Selma, he was like, 'Fine. I'm going to put her on 'Boy.'
"And I remember getting a call saying I didn't get the part for the 'Zoe' show," she continued. "But then, I got another call saying I would be on 'Boy Meets World' the next year. They were looking for a character to join two of the guys on the show, Eric and Jack, who were living together as roommates. And the producers were like, 'That's it. We're going to cast her in the show.' That's how I got it; I never actually auditioned for 'Boy Meets World' formally."
Her star-making turn as Rachel McGuire, spanning the two final seasons of the show, would prove to really cement Ward's celebrity. She appeared in 45 episodes from 1998 to 2000, with the storyline now centering on the characters' college years.
Then, as she entered her early 20s, Ward felt the urge to do something different. "It was an interesting time for me," she said. "I kind of like to be a chameleon and change myself. I did a lot of pilots, I did sitcom guest-stars and I studied some more in school. And then, I got to be in 'White Chicks.'"
The film revolves around Shawn and Marlon Wayans as FBI agents going undercover in "whiteface," pretending to be rich socialite sisters Brittany and Tiffany Wilson. Ward played Brittany, who refuses to be seen in public with her sister after they suffer minor facial scars in an accident.
"It was really cool to be in a Wayans Brothers movie and have them play you," she explained. "It was such a great experience; we filmed in Vancouver, Canada for like five months. I swear, we had so much fun. Every Friday, we would go out to the clubs, and we'd go out to dinners. It was a group of girls who were cast in other movies as well, living in this hotel. There is so much filming up there."
Ward fondly remembered seeing stars like Jessica Biel and Ryan Reynolds there, because the region served as a central hub for Hollywood productions, a kind of go-to spot for any L.A.-to-Canada ventures.
"We had a lot of time off in the beginning because they were doing all their makeup tests," she said. "We had our faces molded for 'White Chicks' — me and the girl who played my sister in the beginning. It was a strange experience, suffocated by this plaster, but not that different from the Fleshlight experience, except your vagina doesn't have to necessarily breathe, haha. But yeah, they didn't have to put straws in my vagina." She described how it took weeks to get the molds to look as realistic as possible, and how even though she was blonde in the movie, it was just a wig. After all, her strawberry-bright hair is very much a part of her brand now, and while she admits that it helped her land big projects, there was a downside: typecasting.
"The 'Boy Meets World' stigma was really with me during that time," she said. "That's all anyone would see me for, and I got very frustrated by that. And there was a point where I just wasn't enjoying going on auditions anymore; I was turned down for auditions for roles I thought might be edgier. They were like, 'No, she's not like that' — which is so funny now, given what I'm doing. So, during those formative years, I was kind of like, 'I don't know what I'm going to do.' And then, I got married."
The fella she married, real estate businessman John Baxter, was a longtime friend that Ward had been dating off and on again. She wasn't all that interested in having kids or a white picket fence, so she was up front with Baxter, who has continually proven very accepting of her unconventional desires. While she would never say "never" to having kids, Ward and Baxter were both only children in their households growing up, so they're at ease enjoying life to the fullest on their own together.
After they married, they flew across the country to New York, where they would end up living for several years.
BROADWAY DREAMS, EROTIC FICTION AND THE AMISH MAFIA
Moving to the Big Apple was no small change for the couple, and while Ward's husband was originally from Philadelphia, he shared her lifelong fascination with New York. He had a lot of business dealings there and she wanted to study theater, so making their way in America's very own Babylon sounded like a fine idea, even if it meant moving away from family and friends in L.A.
"I wanted to try theater acting and do something different, discover who I was," she said, thinking back to her early 30s. "I was studying acting in different places and getting into plays. That's where I really started getting into writing — and even more so, into erotic writing. It was just for fun. In my writing classes, my stories would always end up getting spicy, or even venturing into BDSM kind of things. And I really liked that kind of fiction."
When I asked whether her husband read them, Ward enthusiastically replied, "Oh, yeah. Hell, he loves them. He loves my stories."
This newfound passion for naughty literature was a slow-burn realization for Ward, who, while acknowledging that she is kinky, confessed that it took a long time for her to open up to that side of herself.
"A lot of people are very sexual right away in life, yet I'm like a lobster, and the pot started boiling over the years," she explained. "And soon, I was fully boiled. But if I had been thrown into everything, I would have been like, 'Oh, my God, wow! So I took it a little bit at a time, and my husband has always been very open to me — like, we're not swingers. But he was always open to exploring me being with girls."
Through the process of writing erotic stories, she felt all kinds of hidden urges welling up inside of her and pouring into her fast-typing hands. It offered her a place of vivid imagination where she could act out a variety of scenarios she might otherwise not have had the courage to explore, or even the interest.
"That's how I explored myself a lot, and I would try out new things," she explained. "I just really found myself through a lot of writing and stuff. And people in New York would sometimes ask, 'Why aren't you in Hollywood? You could be auditioning,' which I found funny, because the grass is always greener, isn't it? In New York, the theater actors wanted to go to Hollywood for pilot season and they just couldn't believe I hadn't stayed. 'You could have it all again,' they'd say, and I was like, 'I really can't.'"
Still, she got her acting fix just fine with the New York theater scene, even if she shied away from musicals, a genre of performing that is not her forte (though she confessed to admiring the people in her social circle who were getting cast in plays like "Wicked"). Someday in the future, she said, she would love to do Broadway, but her years on the east coast were most defined by her writing. In fact, that love of wordsmithing was what eventually inspired her to return to her hometown.
"There was a point where my husband and I wanted to come back to L.A.," she shared. "We missed it. We missed our family out here. My grandmother was getting older and sicker, and she ended up dying like nine months after we got back."
As she settled back into the land of freeways, urban blight and sprawling suburbs, Ward did yoga training, to which she credits her mastery of her body, a skill that would prove quite useful in the future. Then she decided to pursue screenwriting more seriously, taking classes at UCLA.
"I did that for two years, their extension courses, but I took a full program," she said. "I also did short story writing, everything. I worked my way up to doing the master classes too. I had great teachers and I ended up with three scripts that I worked on in my classes. And I always did these dark, twisted kind of comedies. Like, one was about the Amish drug trade and a girl getting caught up in it with the Amish mafia, haha.
"It was mushrooms," she elaborated. "They had a special soil that grew the best mushrooms. And I played this sex journalist role in the script, because I envisioned myself as a character in it. She was a sex columnist in New York. She lost everything in her life because of a bad boyfriend, and she needed to do something. She got this idea to do the great American novel. She wanted to go across the country. She answered a Craigslist ad for someone who makes deliveries for the Amish, for his family business."
"It sounded nice," Ward continued. "They go to the Amish farm, and there's a part where she has to pretend that she's his wife. She's like, 'What is this?' all innocent-like as they're making the delivery, since she doesn't know it's drugs at this point. She thinks they have a wholesome cheese business, making deliveries across the country, but halfway through, she realizes that the Amish mafia is involved and it's a drug trade with mushrooms; they end up like an Amish Bonnie and Clyde. And they're fighting, because there's another Amish mafia that wants those mushrooms. And she gets famous at the end because she wrote such a great book about the Amish, haha."
If only that Amish mafia movie had become a reality, it surely would have reached overdrive levels of hype in the meme-tastic decade of the 2010s that Ward was now powering into. Most importantly, though, that script illustrated how her increasingly whimsical and wild streak was reaching boiled-lobster levels of fun. With her sex drive taking the wheel, it was time to get extra risqué, as Ward jumped headfirst into spicy cosplaying. And that, my friends, tipped the dominoes on the path to full-blown porn star.
Maitland Ward
SEXY COSPLAY AND XXX INDIE STARDOM
The way in which Ward became an internet-minx phenom started off innocently enough, when she snapped some photos during a pilot for the "Boy Meets World" spin off sequel series "Girl Meets World," which ended up running for three seasons from 2014 to 2016. Since there was no Twitter during the original show's heyday, she had never realized just how much of a massive fan base the series had.
After being invited to attend the taping of "Girl Meets World," Ward took a photo with William Daniels, who played Mr. Feeney, along with several cast members. She put it on Instagram, then a relatively new platform, where she only had a couple of thousand followers. They picked up on her photos and got excited, since she was the only one posting candid pics from the event at the time.
"The same thing happened in Austin, Texas when I had pictures of the cast; the media picked up on it, because there's your age group who grew up with 'Boy Meets World,' and then, there's also the Disney Channel viewers in their twenties who thought it was live at the time," she said. "And with the Disney Channel involved, it was going to be different from the original show, because it's a little more restrictive and PG, whereas the original was on ABC. Anyhow, all the fans came out to Austin and we were invited to be on 'Good Morning, America' as well."
Now, with her Instagram blossoming and seeing the impact of online star power, Ward became very interested in posting sexy cosplay photos and hot beach shots.
"I was becoming more erotic, wearing bikinis and all that," she said. "We weren't into anything pornographic yet, it was just stuff that I genuinely liked to post. I liked pushing boundaries and I liked taking cool photos, so that generated interest and photographers would contact me to do photo setups."
Her first big breakout cosplay was Slave Leia from "Star Wars," taken by Dave Edwards, who remains a favorite photographer of Ward's to this day. She also began posting on Snapchat, with hints of nudity like a nipple showing through, which the platform overlords didn't crack down on as much back then. Her following soon ballooned, and at her first-ever San Diego Comic-Con in 2015, there came a turning point.
"A guy came up to me saying, 'Oh, Princess Leia, I'm such a fan. I love your Snapchat.' That was the first time I was like, 'Wow,' because I knew I had a fan base, but I didn't conceptualize they were there for any reason other than 'Boy Meets World.' And now I started getting people saying, 'Oh, my God, you were in 'Boy Meets World?' I didn't even know.'"
She also cosplayed characters like Jessica 6 from "Logan's Run" and increasingly donned scantily-designed outfits, pushing boundaries further and tapping into her inner exhibitionist.
"You know what, I love pushing those boundaries — and I found excitement in that," she said.
After years of being told by publicists and agents, "You cannot be too sexy or you won't get more roles" and, "Once you get to be 35, you can't be sexy. Nobody's going to hire you to be sexy," reality was proving them wrong in spades.
"My publicist once actually told me to my face, 'No one will pay to see you sexy,'" she fumed, before adopting a wry grin. "I fired them all eventually. The publicists didn't like anything I was doing, even though I was getting a lot of attention. They were like, 'No, you need to be on 'Girl Meets World.' You need to make sure Disney likes you."
When I asked her what exactly happened with "Girl Meets World," Ward enigmatically offered, "That's a story I'm going to save for my book, but I was the only cast member who did not come back to the show. Partially, it was because of my antics, which were not pornographic at the time, but still naughty."
With a newfound sense of confidence and devil-may-care success from disregarding the wishes of agents, publicists and mainstream execs, Ward realized she didn't actually want to come back to the fold.
"I wasn't going to grovel and I saw what they were doing to characters on the show, the lines were just stupid," she explained. "I didn't want to be, 'Oh, look at the relic coming onto the show, a statue from the old days.' I didn't want to do that. There was definitely a plan for me to be back on the show, but I kept getting kicked off of Snapchat now, because if they saw a nipple or a butt, they were cracking down, no pun intended. And I was like, 'God, this sucks. I can't put anything up anywhere.'"
By 2018, her fans began to ask, "Why don't you sell content?" So, she decided to give it a shot on Patreon.
"I didn't know if anybody wanted to buy my boobs," she mused. "But I said, 'Maybe I'll make 500 or 1,000 bucks on Patreon."
When she awoke the next morning, she had 26 subscribers, without saying a single word about it to anyone. So she decided to formally announce her fiery Patreon offerings, and by the end of the week, she had 2,800 subscribers. Not long after, she was raking in $50,000 a month.
"Patreon is a different kind of animal, because it was more restrictive, so I focused on classy nudes," Ward said. "And in 2018, I became the No. 1 adult creator on Patreon. Even though I was pushing a lot of boundaries, they turned the other cheek because they were making so much money off of my earnings."
While Patreon was tolerant of nude cosplay at the time, Ward still made sure to focus on other platforms as well, like her premium Snapchat. She was in total awe of how much money and traffic was heading her way.
"I loved that I could be this exhibitionist person with such freedom, and my husband was right there with me doing Snapchats," she shared.
By now, she had already made a few friends in the adult industry, like Elle Alexandra, a redhead XXX star whom she kissed on International Kiss a Ginger Day to drum up press and Instagram action. Thinking back to that day, Ward said, "At the end of it, she was like, 'You're going to do something in this industry.' She goes, 'You were so comfortable.' And she was great."
Ward, who doesn't define her sexual orientation in any particular way, is nonetheless fond of women, and has even had relationships with them in the past. So, Alexandra presented a unique opportunity.
"She was one of the first people I did girl/ girl with," Ward said. "We had such a great time doing it. And I met Sovereign Syre through Elle. And she and I did stuff. We even did a St. Patrick's Day shoot because Elle had introduced us. And I met Lily Love, as well as a few other girls. We did some really fun slumber party shoots. People were loving this girl/girl content that I was providing."
Next on her list was taking the big step of producing boy/girl content, so Syre introduced her to 2019 XBIZ Male Performer of the Year Isiah Maxwell, with whom she did blowjob content.
"And it was so much fun," she said. "My husband got along so well with Isiah. It was just a really cool, exhilarating situation. I have Sovereign Syre and Isiah Maxwell to thank for all this. If I hadn't had such a good experience those first times, it would have set my career path differently."
Now, Ward was on the precipice, ready to commit to a full-on boy/girl sex scene, not just a blowjob. So Syre introduced her to Danny Mountain.
BOY/GIRL MEETS PORN WORLD
With Mountain and Maxwell, Ward was in heaven, having a grand old time making content that her fans rabidly ate up. And since Maxwell shared Ward's love for Comic-Con, she incorporated her cosplaying with him, making Spider-Man and Poison Ivy content, while her hardcore scenes with Mountain were just as often holiday-inspired hilarity as straight-up sex.
"People were taking notice of me doing all this stuff, and I was working with such great talent, but it was still amazing that nobody leaked the story to the press, which you'd think they would have," she remarked. "Although I have to say that people on Reddit would often steal all my stuff."
That content theft, at first a nuisance, presented a real problem. It remains one to this day for indie creators and studios alike. Still, she did not let it ruin her incredible first year as a full-fledged porn creator.
"My social media was growing leaps and bounds," she recalled. "In my content and everything, I was just having a great time. Honestly, I could have just kept doing that the rest of my life. But I wanted something more. I loved writing scripts, and I loved acting — and thought, 'Why can't I act? Why can't I really act in something and have sex in it?' And that's what I really wanted to do. And I got to a place where I needed somebody to be a professional outlet for me to do that.
"Because I didn't have the capacity for me to have a whole production," she continued. "I mean, I can make my productions with a cameraman and all that stuff. But to actually do a real film — I kept thinking about that. And I totally thought it would be a cosplay thing that I would do — that I would take porn and mix it with a big feature. And I still have visions of that, like the Amish mafia, haha. We need a porno version of my Amish mafia story."
By now, with staggering traffic levels and folks taking notice, porn companies were approaching her, and the first studio shoot she did was for VR Bangers, which she really enjoyed — despite the tech constraints that make performing in such scenes anything but traditional (given the need to stay in frame and not move all over the place).
"I know a lot of girls hate shooting VR and stuff, but I like it a lot, because I get to talk to the camera," she said. "I get to act out situations. I was like, 'My fans will like this, because it's more of a personal experience.'"
Then, Mike Moz from Vixen Media Group called, offering a BlackedRaw scene, and Ward told him that while she was very intrigued by how classy and beautifully-shot their scenes are, she wanted to shoot for their flagship site Blacked, which was more crafted in its approach. They agreed, and in 2019, she starred with Jason Luv in a scene helmed by Laurent Sky.
She loved working with the French director, who has a penchant for dirty talk that he animatedly encourages during shoots. Afterwards, she remembered how he remarked upon what a great actress she was.
What happened next, however, shocked Ward as much as it did Vixen Media Group. Everything was about to change in a big way.
"When my Blacked scene came out, the servers crashed," Ward said. "Honestly, the servers completely crashed. It was going so bonkers. It broke every single record the company ever held. I just remember that people were flooding my social media too."
The same day that this was happening, Kayden Kross was in the midst of filming her award-winning feature "Drive," needing a replacement for the co-star slated to perform opposite Angela White.
"So, when she came in that Monday, they go, 'You have to talk to Maitland,' and she's like, 'Maitland, what do you mean?'" Ward said. "There was such a time crunch. It was her debut for the brand. Before, they were talking about, 'Maybe we'll do it next year.' Like, you're such a new company you don't have to do it until next year. But then they said, 'OK, talk to Maitland.' And also, she needed somebody to handle all the dialogue. So, I met with her that Monday at a Starbucks. And from then on, we said we were going to do 'Drive.'"
They started filming within days and Ward remembers being so taken with the script, because at last she had an opportunity for a storyline with real acting opportunities and sex.
Maitland Ward
As she read the script, Ward thought, "This is so well-written. This is beautiful. This is a real deep, dark character. It's got sex, but there's all this dialogue. I was so excited. So, Kayden and I met, and we were both really excited. We started working on it so fast. And in those days, we didn't have the huge budgets we have now and stuff. So, we worked on that, and I think we had eight days to film. And she had so many effects that she wanted to happen — like, really advanced stuff."
Even before the movie went on to win award after award, including a coveted 2020 XBIZ Best Actress laurel for Ward, she knew it was something special.
"But it was so fast, we were under a time constraint," she confessed. "We were filming at the end of August, and there was a mad dash to get this done. Still, I never predicted what a huge deal was coming for us. I was like, 'I think we should talk to the mainstream press,' and everybody was understandably wary of them. I wanted to show that this was a real feature film. 'Drive' was the one I really wanted to tell the world about."
Ward hit up a writer she knew at In Touch, who she felt would be positive about the project and open-minded, and when the article came out, her instincts proved true.
"Right away, it started getting all this traction," she said. "Before I went to bed, it was being picked up in the U.K. I woke up, and it was trending No. 1 on Google all day long. Bernie Sanders had a heart attack, but my story was No. 1 with 5 million searches on Google. It was a whole other stratosphere."
That triggered a tsunami of exponential growth for her fan base, while the fledgling Deeper.com brand doubled, then tripled in subscribers, Ward recalled.
"The thing is: people were looking at it, and they were loving it too," she said. "They stayed around. And now, everybody I ever knew in my life knew that I did porn, which I didn't really mind at all."
Ward was pleasantly surprised by the support from her social circle and the world at large, especially among women who came to her and expressed, "This is awesome. I love how you're taking power of your sexuality and what you want to do." She also realized, then, just how many of them watch porn regularly. "They all watch porn," Ward explained. "It's kind of like a generational thing. And they are totally loving it. I would think there would be more people over 50 who might be more judgmental, but definitely people under 35 are much more OK with it."
In light of the success and aligned missions between Ward and Deeper to craft authentic and darkly rich content, a contract came together quickly.
"We wanted to lock each other down," Ward said. "And I remember her saying, 'I've never had a contract girl before. This is the only one.' I'm the only one that's ever been."
A DEEPER UNION BETWEEN ADULT AND MAINSTREAM
As Ward was taking the industry and mainstream press by storm, so too was Kayden Kross, who by now was a multi-crowned XBIZ Director of the Year ever since her smash Tushy.com feature "Abigail" in 2019 was followed by scores of wins in 2020.
With their ascendant twin suns orbiting a nexus of creativity, literary brilliance and aesthetic beauty, not to mention the marketing machinery of the Vixen Media Group empire, it was off to the races.
The next big endeavor after "Drive" was the kinky "Mistress Maitland." It also was a smash hit, judging by the fact that the Deeper.com Instagram account proudly displays the phrase "Home to Mistress @ MaitlandWard" on its profile for all the world to see, even now.
"I remember the first 'Mistress Maitland' in the series did so phenomenally," Ward said. "It was such a cool thing. I loved it. And we're releasing 'Mistress Maitland 2' this year."
Early in their contract star/director dynamic, Ward appreciated how hands-on Kross was. Their relationship also extended beyond set life to encompass true friendship. Above all, though, Ward was most thrilled to be recognized not only for what she was doing sexually, but also acting-wise, thanks to the opportunities provided by Vixen Media Group.
"And it was something that I always wanted, something that I always dreamed of," she said. "Kayden Kross and I started out strong and along the way, we've gotten so comfortable with each other. I love the fact that I get to play such deep characters and they're different. I love how 'Mistress Maitland' is wonderfully crazy. That's how she became a mistress. She's very multifaceted. So the sequel feels very much like 'Kill Bill' kind of stuff."
Fresh off the highs of her award wins in 2020, which Ward described as the best feeling in the world (given that she didn't anticipate winning so many, so soon into her adult career), the unexpected global pandemic suddenly threw a wrench in the works. On the verge of filming a cosplay-themed movie, where Ward was already being fitted in a latex catsuit in early March, the first lockdowns rocked production and the world at large.
Fortunately for Ward, her indie content roots had plenty of flowering branches to pluck during this downtime, so she turned her focus to her premium social media presence on OnlyFans (which later earned her an XBIZ Cam Award for Best Female Premium Social Media Star) and camming as well.
Inspired by her role of Mistress Maitland, many fans wanted her to dominate them via custom video requests or live-streamed interactions, while others gravitated towards her sunnier personality. That she can serve up both darkness and brightness so effortlessly speaks to Ward's multifaceted nature, as well as her acting range.
And because she is a generous spirit, given the struggles so many endured during the pandemic, Ward engaged in charitable work by raising funds for the Free Speech Coalition. She also appreciated connecting with fans virtually during an isolating time in everyone's lives.
"I thought it was really cool during the lockdowns that people were just really wanting a human connection, and the live shows helped to provide that," Ward reflected. "They helped me get through it too. We could all be together virtually, even if we couldn't be physically. It was really fun."
By May, the Fleshlight sex toy which she had done molding for in January came out, and like her initial Blacked scene, the release broke company sales records.
Still, no matter the joys of creating indie content, that was not enough for Ward, and Kross was certainly not being idle herself. So, they decided to create a new feature movie, even with the constraints imposed by the pandemic. It was time to start working on "Muse."
"We had talked about the grand concept and all these different things," Ward said. "But of course, we couldn't have as many people in one place or access to all the locations we wanted. We did have Vixen's penthouse, which was a beautiful space that allowed us to be contained. And Kayden wrote the script really fast. I loved it; my character was so deep and multifaceted. Kayden gave me these monologues too. But it wasn't expected to be a series in the beginning, just a one-time feature."
Nevertheless, after completing the project that summer, it was so well-received by fans and the higher-ups at Vixen Media Group that "Muse" was slated to be a continual series with sequels and the works.
"We want to keep going with the characters' journeys, with their stories," she said. "And we did it on such a big level during the pandemic, which is so amazing that we were able to accomplish that. Just coordinating the bodies with time constraints and everything. Even while mainstream Hollywood had difficulties, we figured it out. It was such an exciting time."
As her adult stardom continually gained traction and the attention of non-industry folks, in the fall of 2020, Ward was contacted about producing a mainstream show called "The Big Time."
"I got hit up by the production company," she said. "It was somebody who knew of me and they were making a sitcom about a nerdy virginal guy who wanted to be a big screenwriter for major movies, but ends up getting hired by a porn company. He doesn't realize it at first, and that's the premise.
"Now, we rewrote a lot of it, because I had gotten approached in the past by people who wanted to use porn stars to either degrade the industry or make the girls just be nude models," Ward added. "It just solidifies what everyone thinks of porn in the mainstream. It feeds the stereotypes."
What caught Ward's eye with "The Big Time," however, was that it was heartwarming and the main character had a lot of soul, so there was serious potential.
"The main guy is going to discover, from porn, what he needs in his life to become more confident and more sexual," she explained. "My character also discovers her talent for making movies and doing porn. Given the quality of the story, I ended up talking to the producers, the director and the writer on Zoom — and I was really interested in it. I wanted to come on board. They were really good about it."
The production company also wanted to talk to Ward about what authentically happens on sets, as they didn't want it to be stereotypical, so she joined as a producer as well. The subsequent script rewrites made the show more comical and adapted Ward's character more to her liking.
While they initially planned to film in New York in January or early February of 2021, there was another shutdown, so they ended up shooting in May.
"In the revised story, the main character wants to be like a big Marvel writer and I'm the star of a porn company that's losing money, so I suggest, 'Why don't we do something bigger, really make a splash out there?'" she explained. "And the porn community in the show is a very tight-knit family environment, which I really like. And my character has this idea to make superhero porn. It's funny — the costumes and stuff that we wear."
Ward also reached out to Isiah Maxwell, who plays one of the characters, and she was delighted by his comedy chops.
"I knew that he would be really good on the show," she expressed. "I definitely wanted to add adult performers to make it authentic. It was just a really fun experience doing it in New York. There was so much interest in the show before we even filmed it, which is so rare. We hadn't even filmed the pilot yet."
Maitland Ward
As this 10-episode mainstream project took flight, another major milestone was in the works: a memoir book deal with Simon & Schuster. They told her they adored her writing, even pointing out the articles she had written for this very magazine, as well as a podcast appearance they enjoyed listening to. Her life story and her eloquence led to them approaching her with a proposal.
"I was so excited for Simon & Schuster, because there were like five women on the call, and they were all so sex-positive and porn-positive," she said. "They loved my story. And they read a story of mine on anal preparation, which turned into a funny chapter for the book."
People in her social and professional circles asked Ward if she was going to use a ghostwriter, but she was emphatic about writing it herself, not only given her capable wordsmithing, but also to ensure an authentic voice.
"It's been such an undertaking, but enjoyable," she noted. "It's cathartic going back to look at your youth, all the way to now, and the memoir is definitely going to be sex-positive, porn-positive and shatter the walls between mainstream and porn. And I think we're going to get a lot of insights. It's also going to be very funny. There's a lot of fun stories in porn.
"I liken my days in porn a lot to my days in the soap operas, because the worlds are kind of similar," she shared. "They're both smaller communities, since soaps are like an offshoot of Hollywood that Hollywood looks down on — it's that kind of feeling. There's big personalities. There's great actors and performers that don't get the credit they deserve. And they all know each other. Or, there's people in it for a second, and you never see them again. It's been really cool, and I think this is going to be a groundbreaking book that's not going to be what people expect — a Disney person getting into the porn industry. I've got my fairytale in porn and it's not even dark."
Even as she labors on her memoir, Ward's also signed on to do another mainstream film by another female director. While details are under wraps for now, she did divulge that it's about the dark web, in which she is a sort of virtual avatar.
Of course, her adult career is moving with equal momentum, and Ward said she's thrilled for the upcoming sequels to "Mistress Maitland" and "Muse," which she has recently shot.
"There's just so much ahead that I'm excited about," she shared. "And I'm especially happy about mainstream and porn coming together. One of the first questions people asked me when they first heard about 'The Big Time' pilot, was, 'Oh, so you're leaving porn now?' And I'm like, 'Well, you haven't been paying attention to what I've been doing at all. You haven't been listening to me.' What have I said all this time? That I want both worlds to come together and be interchangeable.
"And I just think that we, as an industry, need to get away from allowing ourselves to fall into stereotypes," Ward concluded. "Kayden always says, 'Porn needs to take itself seriously to be considered serious.' And she's always done that. I definitely learned from that. Mainstream is always kind of laughing at porn, and they'll use it for what they can get from it. But they're never going to give you anything better than what they think you deserve. But you know what? Stand up and say what you deserve."
With the lines between adult and mainstream increasingly blurred, the advent of monolithic indie platforms in both the safe-for-work space and adult markets, YouTubers eclipsing major TV networks and rising amateur exhibitionists gaining traction faster than seasoned studio-shot stars with a decade-plus in the biz, it is precisely this dedication to bridging both worlds that sets Ward apart. It is why she isn't a fly-by-night tourist in the industry or a carpetbagger or a future judgmental ex-porn personality who will drag the business through the mud for cheap publicity.
She is here, without a doubt, for the long haul. With acting chops for days, a love for in-depth scripts and a strong message for the world about how empowering sex-positivity can be, Ward's impact will be felt far and wide for a long time to come.
"People should really be proud of the adult businesses that they've made, and I think that the time is really coming where you can be both loud and proud about it in mainstream," she said. "And it's an awesome industry, adult entertainment, that I'm just so excited to be a part of. I have absolutely loved my time and all the respect it's given me. I will never, ever forget that."