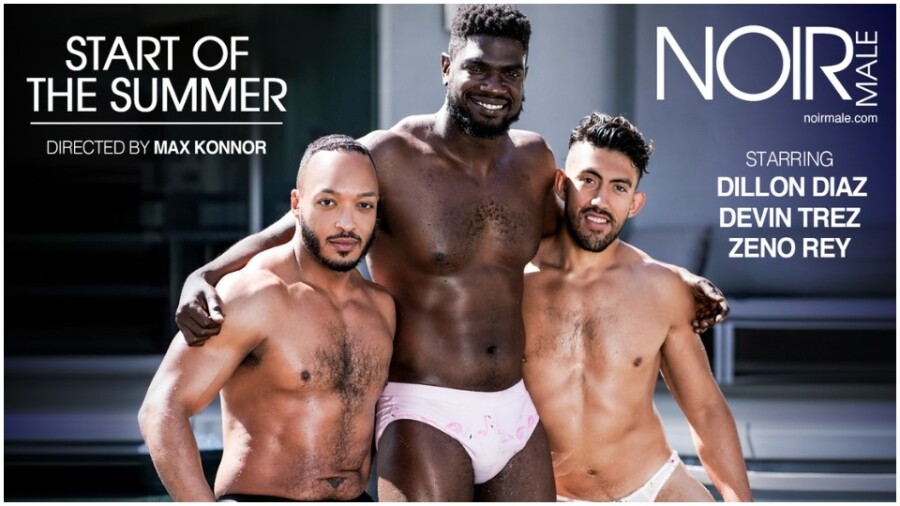 Max Konnor Marks Directorial Debut for Noir Male
MONTREAL — Noir Male has announced the release of "Start of the Summer" on Friday, the directorial debut of reigning XBIZ "Gay Performer of the Year" Max Konnor.
The threesome stars Dillon Diaz, Zeno Ray and Devin Trez; Konnor's follow-up, featuring Ray with Adrian Hart, will street in September.
"Noir Male broke new ground for gay men of color when it formed in 2018, and it is committed to celebrating and championing voices and visions previously underrepresented in the adult industry," noted a rep. "Max was at the forefront of the studio's immediate success [and] claimed the first Noir Male 'Man of the Month' title in 2019."
The rep described Konnor as "one of the hardest-working men in adult."
"CAM4 named Konnor as their first gay male brand ambassador. He joined an elite group of men in 2020 as a Falcon/NakedSword exclusive for studio shoots. He's a coveted Fleshjack Boy," the rep enthused. "He is the founder of Haus of Konnor, a management company for BIPOC performers and now adds director for Noir Male, helping to reshape the mission of the brand."
Konnor will mark tomorrow's release by taking over Noir Male's Twitter handle to offer "exclusive access and insight" and he will participate in an IG Live chat hosted by brand ambassador Brandon Karson at 11 a.m. (PDT).
"It's a pleasure to return to Noir Male as a director," Konnor said. "I filmed in the very first Noir Male scene. Now I've come full-circle, returning to work behind the camera. All of the models brought their A-game and I think we made some really great porn. I can't wait for y'all to see."
Jon Blitt, VP of parent company Mile High Media, said Konnor has been "integral to Noir Male's popularity and success from Day One."
"We are excited for this new collaboration with Haus of Konnor and Max. He brings a welcome perspective to production that is crucial to the culture of the brand and its evolution," Blitt continued. I presented this opportunity to him knowing he has what it takes and I am so impressed with what he has brought to the table as a writer and director. We are honored to have him join our directing ranks."
Visit NoirMale.com and follow Max Konnor on Twitter for the latest updates.