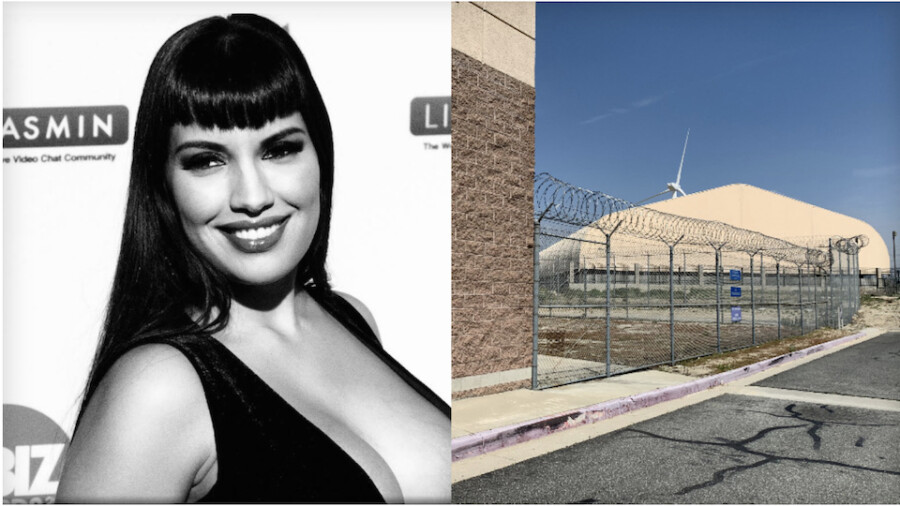 Mercedes Carrera Tests Positive for COVID, Placed in Isolation Unit
RANCHO CUCAMONGA, California — Mercedes Carrera — who has been incarcerated for two-and-a-half years in San Bernardino County awaiting trial for charges of sexual molestation of her daughter — disclosed this afternoon that she has tested positive for COVID-19 and she is currently in an isolation unit.
Carrera called XBIZ from the West Valley Detention Center in Rancho Cucamonga this afternoon to confirm the positive test, and also reiterate complaints about health care and hygiene in the correctional facility, as well as fears for her safety due to what she described as "threats" from other inmates and correction personnel.
Carrera had previously called on Friday, Saturday and Monday, describing the ongoing deterioration of her health, which was evident from her speaking voice.
She and her husband Jason Whitney were arrested after a police raid of their Rancho Cucamonga home on February 1, 2019. They have been in county jail without trial since then, first without bail and later, after they had liquidated their assets and had no source of income due to their incarceration, with bail set at $2 million for each.
A pretrial hearing to determine the jury selection process, and the date of the beginning of the actual trial, has already been postponed numerous times, most recently until August 6.
'Disgusting' Hygiene Conditions
On Friday, Carrera reported being sick, days after being assigned a new roommate who showed flu-like symptoms. She had been put in a quarantine unit (9-B) and swabbed, but by Monday she had not been told the results of her COVID test.
Carrera said that she had requested to be vaccinated on June 13 but had received no reply since.
The incarcerated performer also reported that the quarantine unit had "disgusting" hygiene conditions and that a mixture of quarantined incoming prisoners and people who were visibly sick and coughing were thrown together with insufficient mattresses.
Today, from the isolation unit, Carrera said that she also feared for her life, as "gang-affiliated people" in other cells had started calling her "a snitch" and threatening her.
A friend who also spoke to her today said Carrera had mentioned "she's not feeling safe" and "there are only two guards for eight units, and she's marked by wearing different colors." Carrera was referring to the distinctive green uniform that separates her from the orange-wearing inmates and flags her to the others as a "special offender" due to the sexual nature of the allegations against her.
Once she reported her illness, Carrera said, she was given "no cough medicine, no nurses, no doctor."
Broken Telephones
All of the phone calls since Friday, at both the quarantine and the isolation units, were noticeably much more garbled and full of static than previous calls Carrera had made, adding to her sense of desperation.
After Carrera reported yesterday she had been tested on Saturday but not yet given her status, XBIZ spoke to Jodi Miller, public information officer for the San Bernardino County Sheriff's Department, who confirmed she was going to be given the results before the end of the day.
"Any inmate that is experiencing a COVID-related symptom is placed in isolation and given a COVID test," Miller told XBIZ. "Once medical receives the results of that test, a nurse will inform the inmate of their test results while making her daily visits to isolation [and] quarantine units."
Miller added that "inmates are provided with cleaning supplies and encouraged to social distance themselves from other inmates. Inmates are routinely reminded to wash their hands and keep their areas clean to help slow the spread of the virus. All inmates and employees are required to wear masks."
She also said yesterday that "the Sergeant advised the phone company of the poor quality phone service. There is an on-site phone company employee at the facility that is looking into the problem."
Today's garbled phone call from Carrera did not show evidence that the sound problem had been addressed.
'They Are Trying to Kill Me'
When informed of the Sheriff's Department answer to her claims of a severely unhygienic situation and lack of medical care, Carrera described it as "ridiculous."
"They are trying to kill me," she told XBIZ, and denounced the irony of actually contracting COVID for what she described as the dismal conditions of the detention center — where a vast number of people are held for months, or even years, by San Bernardino County with no trial and insurmountable bail — to be considered "newsworthy" to anybody.
Although there have been several local news reports over the last few years of abuses and lack of proper facilities at San Bernardino County correctional facilities — including large settlements by the County for situations inmates described as "torture" — the Los Angeles Times, TV stations and other major Southern California and national media have not picked up on it nor have they regularly questioned local authorities.
Last November, inmates filed a federal lawsuit alleging "two former rookie sheriff's deputies, without provocation, brutally beat a former inmate and knocked him unconscious at the West Valley Detention Center in Rancho Cucamonga."
The lawsuit also alleged that the deputies "encouraged other inmates to fight, that the protective custody unit at the jail had been become an 'involuntary fight club,'" the local newspaper The Sun reported.
For XBIZ's ongoing coverage of the Mercedes Carrera case, click here.