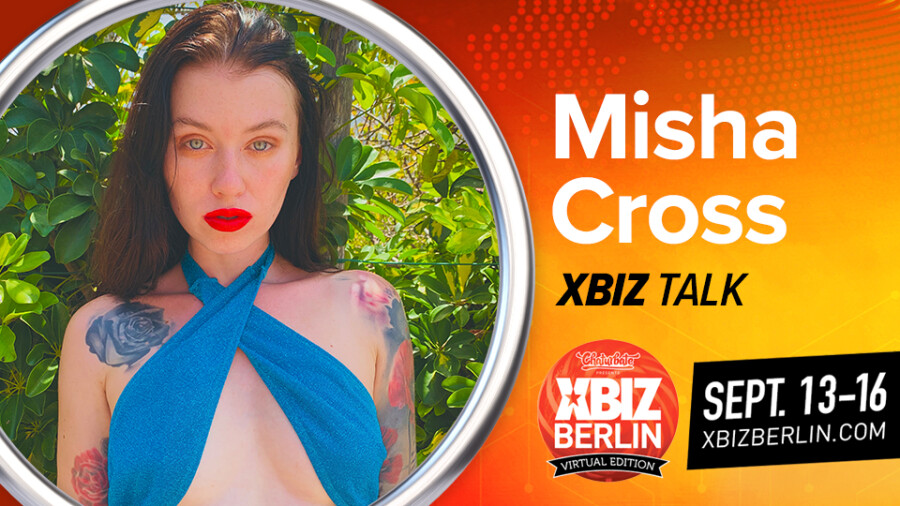 Misha Cross Promises to 'Share It All' for 2021 XBIZ Berlin Interview
BERLIN — European superstar Misha Cross will be one of the highlighted speakers at the virtual 2021 XBIZ Berlin conference with a no-holds-barred, one-on-one interview, conducted by Samantha Bentley, on Tuesday, September 14.
The first-ever XBIZ Europas winner for "Best Actress" (2018) has promised to provide the attendees with a revelatory look at her unstoppable rise as one of the most in-demand beauties on the Euro side of the business.
"I'm really excited for the upcoming virtual show," Cross told XBIZ. "As I decided I didn't want to do a solo panel, I will be interviewed by the one-and-only Samantha Bentley instead."
"When XBIZ reached out to me asking if I'd be interested in doing a highlight talk, I immediately said I needed Samantha to be a part of this," Cross said of her close friend. "There is no one else who knows me so well, and who could get intimate with me during a live interview. It will be a good one!"
The performer is a multiple XBIZ award winner, including for her directorial projects, and hosted the 2019 XBIZ Europas ceremony, alongside legend Rocco Siffredi, to acclaim.
Cross added the interview will be a discussion about her career in porn and about how she successfully transitioned from performing to directing to managing premium social media.
"I will be sharing personal stories from the set and from my life — as well as my hopes and dreams and regrets," Cross concluded. "My time in porn has been a rollercoaster ride, with all its ups and downs. And I will share it all!"