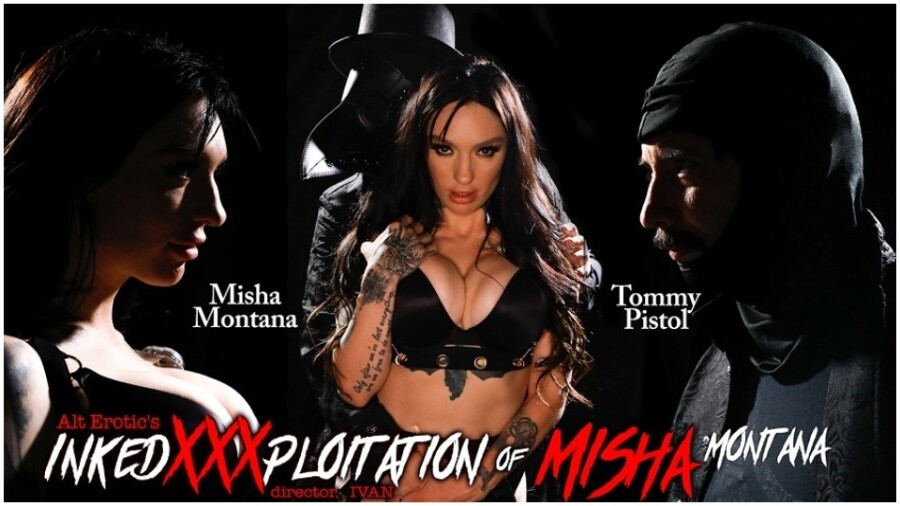 Misha Montana Returns to Alt Erotic Following Stroke Recovery
LOS ANGELES — Alt Erotic has announced the return of brand ambassador Misha Montana with the Friday release of new scene "Stroking Away," co-starring Tommy Pistol.
According to the studio, "Stroking Away" marks Montana's "first onscreen performance since suffering a debilitating stroke in April — she even wears a heart monitor during the scene — and the Alt Erotic Chief Brand Officer explained that her highly-anticipated comeback was an emotional one."
The B/G scene is part of Montana's forthcoming release "InkedXXXploitation."
"This is the most insane project of my career," the performer said. "It's a very vulnerable experience that I decided to share with the world in the hope that it humanizes performers in our industry, and the industry as a whole."
"Not only will viewers get outrageous, hardcore, amazing sex scenes, but also a look into what it's like to suffer a major life event and health scare," she added. "There's never been anything like this — one day I'm doing blow-bangs and getting extreme tattoos, then I have a stroke the next day and a few weeks later I'm back to doing high-energy scenes."
"It's a beautifully crafted project and it includes the best work I've ever done," she added. "I wanted to inspire people to never give up on your dreams, and I know this will prove just how passionate I am about my career; regardless of a stroke, I'm still a badass performer that can't be stopped."
Alt Erotic CEO Ivan, who is also Montana's fiancé, said he was "pretty amazed at what Misha puts on her shoulders; I have become the one yelling 'slow down!' but am so impressed with her drive as well as work ethic. While healing, she has helped the company in so many ways. I can only imagine, once these health crises are past her, what mountains this woman will climb."
To watch the 'Stroking Away' trailer, visit Alt Erotic's YouTube channel. For more information, visit AltErotic.com.
For more from Misha Montana and Alt Erotic, follow them on Twitter.