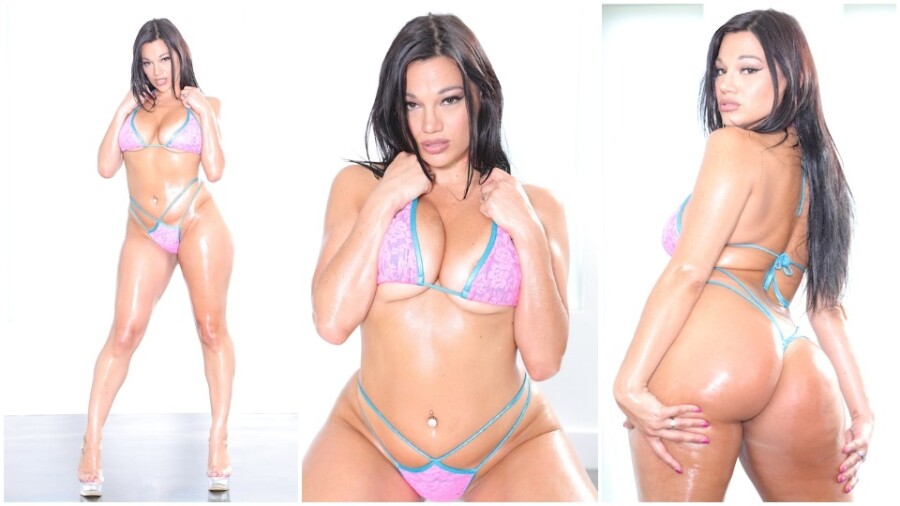 Mona Azar Teases 'Natural Phenomena' for Evil Angel
LOS ANGELES — Mona Azar spotlights her "curvaceous anatomy and orgasmic physiology" in a scene from director Pat Myne's "Natural Phenomena" debuting online today ahead of the the title's release in all formats Wednesday.
Myne's " vivid camerawork captures big-boob titty fucking, oil-slick intercourse and Mona's ejaculating girl squirt," teased a rep.
"Everyone had great energy on set," Azar said. "I felt sexy and in control because Pat gave great direction and positive feedback throughout the whole shoot. He also captured some amazing photos of me with oil all over my body. [Costar] Jason Moody, is passionate and high-energy, like myself, so I truly enjoyed every minute of the scene. It was very wet and slippery, but I think messy sex is the best sex."
Myne said "Natural Phenomena" was "the right project" for his star.
"I met her awhile back. She was so hot, and body for days. She has amazing, natural tits. My last movies have all been anal movies, and Mona doesn't do anal — yet," the director said. "When we started talking about a 'natural boob' movie, I said, 'Finally, I can shoot Mona!' It was worth the wait. What a fun day. The chemistry with her and Jason was fire. They instantly hit it off."
The action opens with Azar teasing the camera in a bikini and stilettos.
"I could shoot hours of tease with her," Myne stated. "Just when I have enough, she does something different, and it's so hot, you have to keep filming."
"Natural Phenomena" also stars Skylar Snow, whose tryst debuts tomorrow. "Scenes starring stacked Sofi Ryan and superstar Angela White are already live on the site," the rep added. "And that's not fake news."
Visit EvilAngel.com and follow the studio and Mona Azar on Twitter.