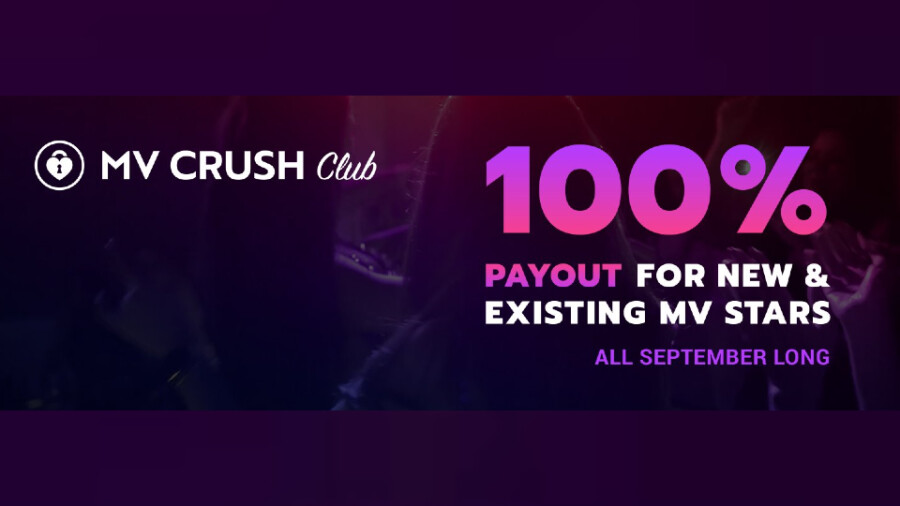 MV Crush Club Announces 100% Payouts for September
LOS ANGELES — ManyVids' subscription-based service, MV Crush Club, is offering 100% payouts for the entire month of September.
"ManyVids is a judgment-free platform and one-stop-shop with so many great features, including MV Crush Club, where MV Stars can offer their most loyal fans exclusive content at a subscription rate of their choice," a rep explained.
"Whether you already have MV Crush Club activated, are an existing MV Star who wants to offer it, or you're entirely new to MV, you will be entitled to this 100% payout. The payout will be applicable to all your MV Crush Club income for September; this includes both rebills and new subscribers," continued the rep.
In the coming weeks, the service will additionally roll out a scheduling tool that will be integrated into MV Crush so creators can schedule posts in advance, and increase the length of content — up to 20 minutes, or three GB — that can be posted to MV Crush Club.
"With the recent changes in the industry, many content creators are being forced to figure out their next step. The most important thing to take into consideration is whether your new or existing platforms have the proper trust and safety measures in place," noted the rep. "ManyVids is proud to say that the MV Community is made up of 100% verified uploaders, where creators can feel safe to share and sell their work."
"ManyVids has created a secure, ethical and trustworthy ecosystem where trust and safety are at the core of everything they do," the rep continued. "They will continue to verify all uploaders, work with their partners to ensure their platform is ethically sound, demonstrate respect, engage and cooperate, fight against non-consensual content and be a safe space for everyone."
"Continuing to improve the platform whenever necessary to protect the well-being of the MV Community and ensuring they are geared-up for the future of our industry is a top priority for ManyVids," they said. "Thank you to the entire MV Community for making us the platform we are today."
Click here to find the platform's Trust & Safety Program and follow ManyVids on Twitter.