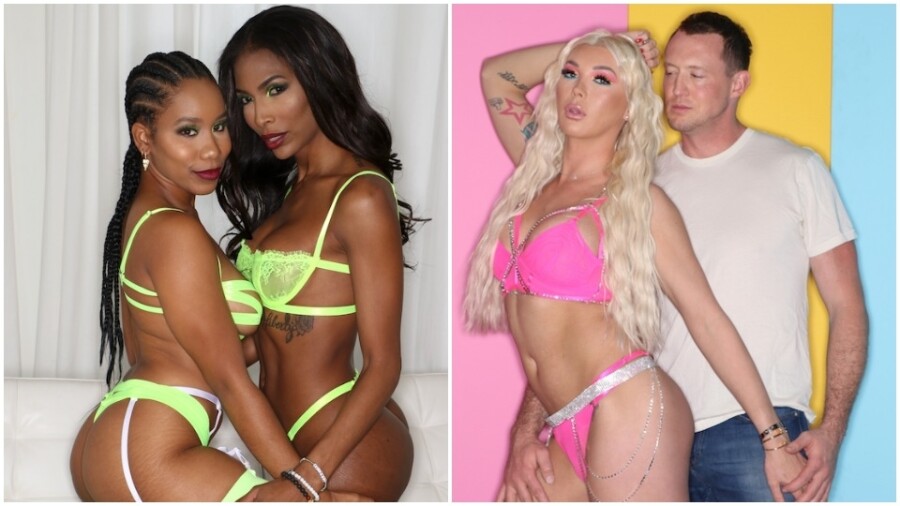 Natassia Dreams to Direct for New Evil Angel Imprint PansexualX
LOS ANGELES — Evil Angel has signed XBIZ award-winning performer Natassia Dreams to a six-scene directing deal for PansexualX, a new imprint focused on "sex beyond gender" with an aim to reflect the individual personal experience of each performer.
"Stars have free range to act out their own fantasies, with no requirements for positions and no expectations about sex acts as they relate to gender," a rep explained. "All PansexualX roles, partners and crew are approved by talent. Performers choose whether they top, bottom or verse in a scene. Content features a wide variety of gender identity and sexual alignment. It's more about what is special about each model than fetishizing their features. The resulting, performer-driven product is fluid, natural and authentic."
"A big part of performer-driven content is having performers direct scenes," the rep added.
Dreams, in addition to her tryst with Sartre, also directed a second scene with Jenna Foxx titled "How to Get at Me."
"I've directed for other companies on a scene-by-scene basis," she said. "I loved it. I'm looking to expand my passion for directing by committing to several scenes with PansexualX, and am looking forward to doing the same with other companies."
She explained that "porn concentrating on genitals leaves performers and viewers with an empty experience."
"It's about more than parts," Dreams noted, "it's about the person."
For "How to Get at Me," Dreams selected the "glam squad" — the hair, makeup and styling team — according to their experience with ethnic models. The scene is "an exploration of personal pleasure. Natassia's vision highlights Black-on-Black porn, seeking to expand hyperbolized Southern California beauty standards to a more realistic vision," the rep said.
PansexualX will highlight established names with up-and-coming talent in a reality-style format with interviews and behind-the-scenes content. However, the rep said, plans for storyline-driven scenarios and a full-length feature are on the boards.
A collection, "PansexualX Porn Crush," will be released in all formats on July 21.
Current and upcoming PansexualX talent includes Korra Del Rio, Daisy Taylor, Kenzie Taylor and XBIZ award-winning performers Aubrey Kate, Dante Colle and Pierce Paris, among others.
Explore PansexualX on EvilAngel.com and visit the studio on Twitter for the latest updates. For domestic sales, contact Rick Porras at rick@evilangel.com; for international sales and licensing, email Alexandra Kelley at alex@evilangel.com.