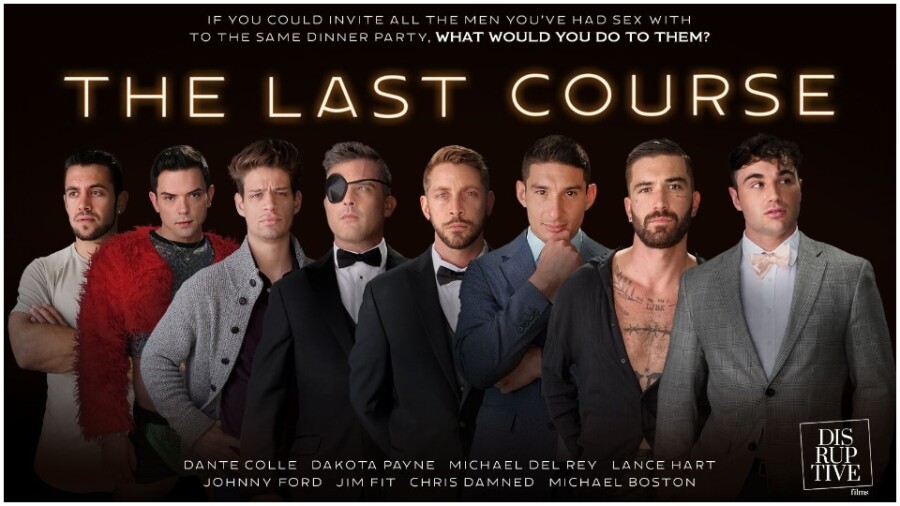 Newly Launched Disruptive Films Wraps 1st Feature, 'The Last Course'
MONTREAL — Adult Time's newly launched all-male label Disruptive Films has wrapped production on its first feature, "The Last Course," written and directed by Bree Mills.
The new label was created as a collaboration between Mills, Gamma Films Group and Alpha Studio Group, the production arm behind Next Door Entertainment, Pride Studios and Active Duty.
Described as "a twisted mystery," the starry cast includes Brandon Anderson, Michael Boston, Cameron Dalile, Chris Damned, Michael Delray, Jim Fit, Trevor Harris, Johnny Ford, Johnny Hunter and Dakota Payne with 2020 XBIZ "Male Clip Artist of the Year" Lance Hart and reigning XBIZ "Performer of the Year" Dante Colle.
Mills, the CCO of Adult Time, filmed the "The Last Course" over six months with co-producer Walden Woods, who will serve as the primary director for the label.
"If you could invite all the men you've ever had sex with to the same dinner party, what would you do to them? That's the film's tagline — and that's all I'm going to reveal about the plot! I can't wait for the world to see what we've been up to at Disruptive," Mills said.
Ford takes on the lead role in the feature.
"I'm so honored and grateful for the experience. This was, by far, the most demanding, exhausting, twisted and rewarding porn shoot I've ever done," he said.
"To me, this role was an artistic expression of sex addiction, which I've had experience with. Here was a character so sociopathic toward his partners that he used and manipulated them to a very extreme end," he continued. "In an industry where we serve endless sex to be swallowed up, with no reprieve, I appreciate Bree's vision of an exaggerated addiction, to give us a haunting warning while also being wildy entertaining and sexy."
Costar Boston described the experience as "a blast and very challenging, acting-wise."
"I had to draw up a lot of emotion for my role," he noted. "I was happy to be cast in a movie with a lot of acting and for being able to work as an actor and not just for the sex," said Boston. "I loved being able to bring a character to life."
Colle recalled his character "undergoes a particularly difficult experience in the film."
"It was a nice change of pace to bring the seriousness and cinematic quality that gay porn deserves," he continued. "It felt like everyone was cast perfectly for their role and, with the help of an amazing crew, we were able to pull each character out of everyone."
Woods expressed gratitude for the complete experience.
"Being able to bring life to this film truly became a passion of mine. It was challenging, exciting and one of the highlights of my career," he said. "Every single person from the production assistants, to the super-talented videographers, to the incredible cast were able to bring their A-game and create something I think will really disrupt this industry and show the world something that has never been seen before."
"The Last Course" will be released as a free SFW feature and as a three-part adult series on DisruptiveFilms.com in September with traditional DVD/VOD distribution to follow. Find Disruptive and Adult Time on Twitter.