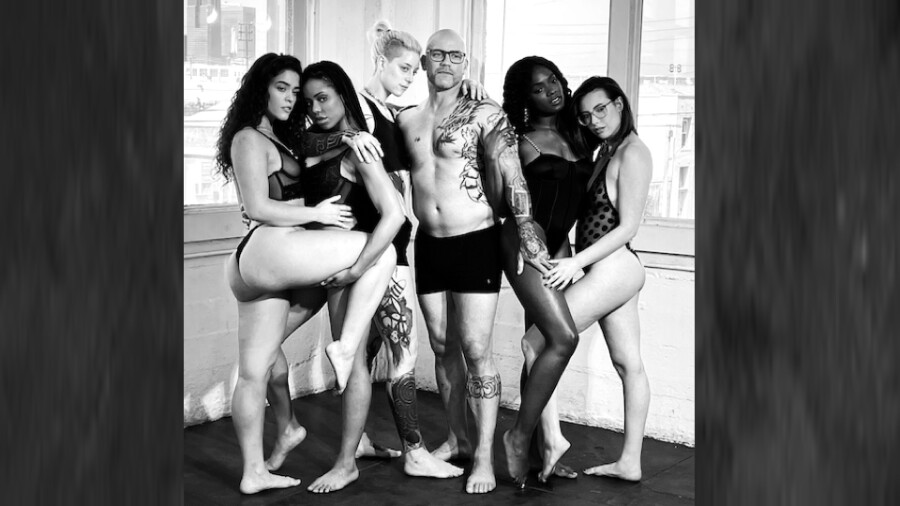 On the Set: 2nd Season of Casey Calvert's 'Primary' Serves Realistic Look at Young L.A. Loving
LOS ANGELES — You can't find a lot of porn that honestly delves into the intricacies of polyamorous relationships. Or that attempts to realistically portray the lives of aspiring showbiz people, always searching for the next gig and trying to figure out the path to "making it." Or the class differences that float up when slightly older people who have their lives together hook up with those still struggling. Or that is shot in the actual locations where these domestic dramas play out at the dawn of the third decade of the 21st Century in Los Angeles.
Casey Calvert's "Primary," now halfway into its second season, would already be unique for hitting all those rarely explored marks — but it offers even more. Fully funded by international studio Lust Cinema, which gave the director-writer-performer total creative independence, "Primary" is story-driven, character-driven and shot with a mainstream approach that puts it much closer to HBO's "Euphoria" or any number of current streaming service serials than to any Porn Valley assembly-line confection.
Oh, and this season Calvert also plays one of the leads, which multi-hyphenates her into something like the Miranda July or Orson Welles of contemporary porn.
"It's very much a Los Angeles story. It's about people living in Los Angeles," she tells XBIZ during an exclusive interview weeks after wrapping the 12-day production and hours before turning in the final cut, which she personally supervised.
The second season of "Primary" was shot on location in the spring, when the first wave of COVID precautions were still at their height, and some days with a full cast — including dozens of extras — and crew. "We paid for a lot of COVID testing — we kept the industry's labs in business," joked Calvert. "Seriously, though, this level of production is pretty unprecedented when it comes to adult," she added, pointing out the tricky logistics of securing actual locations that would not only look like but actually be some of the Los Angeles places these characters would frequent in real life.
The locations include two restaurants, an actual landmarked historic home (introduced in Season One as the home of the more well-off characters), an indie bookstore and a furniture store. 
While on location Calvert stressed to the performers that it was crucial to respect the locations where the acting scenes would take place, and to avoid the standard "this is not serious, this is porn" jokiness and banter ingrained by years on commercial porn sets. "We are here as actors, we are not here as porn stars," she would tell them, and the attitude shift was noticeable both on set and on camera.
"By preventing people from being 'gross' on set, it changes the mood," Calvert told XBIZ. "It becomes then about intention. As a director, I've learned locations are very important to me. When I put people in real places, I've noticed I get better performances and I do better as a director."
Real Stories of Young Los Angeles Love and Lust
XBIZ visited the production during one of the shoot days at the indie bookstore, where Calvert's character Phoebe was giving a reading from her recently published short story collection.
The second season of "Primary" takes place six months after the events of the acclaimed first season, though in a COVID-less reality. As soon as the actors took their places, director of photography Bryn Pryor (who's also Calvert's husband) called for everyone on camera to remove their masks for the duration of the scene.
Calvert's Phoebe works at the bookstore and otherwise writes literary fiction, which "she gets to do because she has a sugar daddy, played by Ryan Driller," the director explains.
The location is not "a random bookstore" or "whatever failing out-of-the-way bookstore with dusty corridors could be bribed into letting porn people shoot there" — it's a legit hip bookstore located in one of the hippest areas on the east side of Los Angeles.
Her co-worker at the bookstore is Olivia (Victoria Voxxx), an aspiring singer who very recently broke up with her boyfriend Joe (Cam Damage), but they're still living together in a cramped apartment complex in Atwater because they can't afford separate lodgings.
Both Phoebe and Olivia were introduced on Season One as nonsex characters, and have been promoted to leads — and to fucking — in Season Two.
"I call that 'the Easter Eggs' between seasons," says Calvert. "Those who watch 'Primary' will notice that the nonsex characters start off in the background of the other stories and then come front-and-center. In Season Two, Codey Steele tries to pick up Olivia at a bar while Able Godshark flirts with Phoebe, so you may just see more of them come Season Three."
Returning from Season One are the well-off couple — they of the architectural landmark home — Parker (Derrick Pierce) and Abigail (Ana Foxxx).
"Parker and Abigail are poly," Calvert explains. "Last season, Abigail was dating Jacob (Small Hands), whose live-in girlfriend was Eva (Kira Noir). Parker was dating Melissa (Penny Pax), but they broke up by the end of the season, so Penny is not returning."
A Director-Performer Who Knows Her Cast and Characters Intimately
Although they lost that character, "Primary" added Phoebe and Olivia, resulting in six leads instead of five — one of whom is played by the director — requiring Calvert to be even more adept at keeping all the narrative balls up in the air through the six-episode arc.
The two new characters soon become intertwined into the complex romantic-sexual arrangements of the "'Primary' Cinematic Universe."
"After splitting up with Jacob, Eva moves into the small Atwater apartment below Olivia and Joe," Calvert reveals. "Olivia and Eva are attracted to each other. Meanwhile, Phoebe — me — is dating Parker but also having 'casual fun' with his wife Abigail. Although the casualness evolves into more complicated feelings."
"Abigail is falling in love with Phoebe, although 'it was supposed to be just fun,'" Calvert continues. She describes that arc as one of the two main conflicts in Season Two, the one involving "people with their lives together, a different part of the social set."
The other conflict — affecting the story's have-nots — involves Olivia and Joe's breakup.
The second day XBIZ visited the set was at the Atwater apartment location, where new neighbors Eva and Olivia begin their flirtation. Small Hands has dropped by for a cameo as Eva's still-supportive ex-boyfriend, a rock musician. Olivia is starstruck and sings one of his songs, a cappella, to him, and he is extremely encouraging.
This is where fiction and reality blur, as Small Hands (aka Aaron Thompson, aka Empty Streets) is a noted rock musician with an EP for Cleopatra Records (out today) that was recently praised by Billboard magazine, and Victoria Voxxx is also a badass rock singer with her Vegas-based act Voxxx.
Take after take, Voxxx sings Jacob's song, impressing the other characters, her fellow performers and the entire crew with her vocal chops.
The singing interlude brings up the fact that Calvert really knows the people she casts. As an active performer who's also a director, she knows the performer community inside-out — these are not just day players; these are her colleagues, friends and close associates. It's not an algorithm or an out-of-town content broker making decisions about plots, characters, wardrobe or sexual acts. She knows how best to use the cast, from seasoned stars like Ana Foxxx to newcomers to mainstream performers like Cam Damage, whom Calvert personally scouted for the complex role of Joe.
"Joe is an aspiring actor, Olivia is an aspiring musician. They're broke twentysomethings who still live in a one-bedroom apartment together," Calvert explains. "A big part of the storyline is that Cam's character is trans. But Olivia is a lesbian facing the fact that her former girlfriend transitioned, and now Joe has moved on. This is based on certain friends I have and their previous relationships don't work as well after a transition."
Secondary characters woven into the story are played by April O'Neill (who joins Phoebe and Abigail for Abigail's birthday) and Dante Colle (who joins Joe for a hookup).
'Something Different, Something Special'
The critics that uniformly raved about the first season of "Primary" are sure to appreciate the further explorations of polyamory, gender and sexuality offered by the sophomore story arcs.
"When people do check it out, I get incredible feedback," Calvert says. "I even got a a Diablo Cody comparison [from XCritic's Don Juan DeMarko] and I was so flattered. What I love about the tone of things like 'Juno,' or 'American Honey' and the Sean Baker movies is the way they establish the reality of the situation."
Looking at the shoot from the editing bay, Calvert says Season Two made her realize how incredibly difficult it is to try to both direct and act — sex scenes included.
"I never intended to write myself as a major character," she tells XBIZ. "The Lust Cinema people, who have been very supportive of the project and my career, were very excited in having me as a performer as well as a director, so I couldn't say no."
"I couldn't have done it without Bryn and trusting him as my partner, though," she adds. "It was invaluable to have him telling me how I was doing through the scenes I was in."
"I hope people realize this is something different," Calvert concludes. "This is something special. Few people in adult are making movies like this."
The first episode of "Primary Season 2" debuted on LustCinema.com July 23, with new episodes every Friday until September 3.
Follow Lust Cinema and Casey Calvert on Twitter.
Photos by Gustavo Turner.