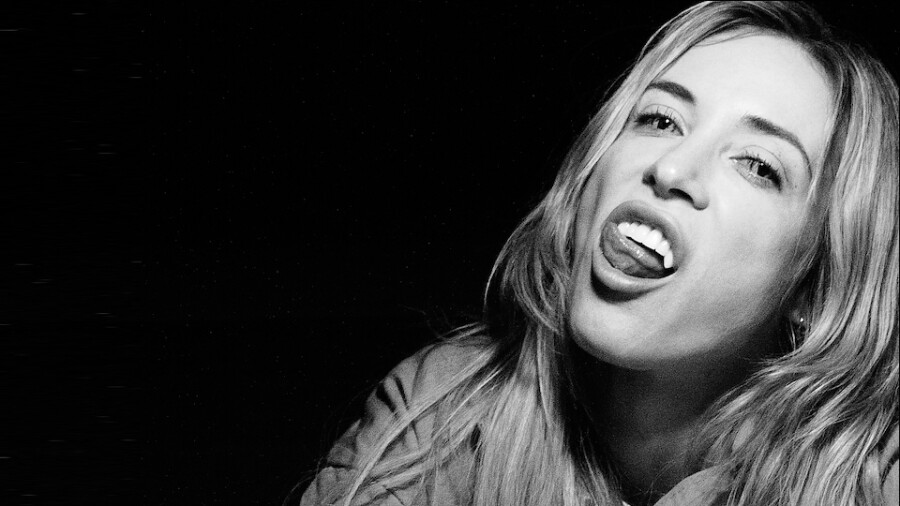 On The Set: Werewolves and Porn Collide in Ricky Greenwood's 'Blue Moon Rising'
LOS ANGELES — When director Ricky Greenwood and screenwriter Shawn Alff met up in the fall of 2020 to discuss their new horror movie for MissaX — which is being released this month in three parts as "Blue Moon Rising" — one central question loomed over the project.
"Do we get to fuck the werewolf or not?"
"The answer was 'No, we don't get to fuck the werewolf,'" Alff recalls. "Because according to the credit card companies and the payment processors, you can have fucking, and you can have werewolves, but you cannot — can. not. — fuck the werewolf. That would be bestiality."
But werewolves don't exist, XBIZ protests.
A bemused Alff responds with a tight-lipped smile and his best impression of the "shrugging man" emoji.
It's the last week of February and the second shooting day of the movie that is still called at that point "Blood Moon Rising." We are in a popular porn shoot house that from outside appears to be a random McMansion in the middle of a desolate non-Valley hill, but in fact includes several sets (hospital, restaurant/bar, courtroom, Italianate court, plane interior, motel), one of which has been turned into a credible police station by Greenwood's compact, efficient crew.
The crew members — except for the cameraman, industry stalwart Matty Holder — are performing their duties wearing formal-ish attire, as they have all been drafted to play cops. Screenwriter Alff is also double-dipping as a policeman who banters with Tommy Pistol, who plays a self-described "scumbag" detective, about the mysterious clawed-to-death corpse of a local biker that has been found in the neighboring woods.
"You think someone attacked him with a dog?" Pistol's character asks Alff, channeling every clueless cop faced with a similarly mangled corpse in a long lineage of classic and grindhouse werewolf movies going back to Lon Chaney's OG Universal monster.
I Dream of Werewolves
"Making a werewolf movie was my childhood dream," Greenwood tells XBIZ later that day, when production halts to wait for the prosthetics to be applied that will gradually turn the stunning Aiden Ashley into a vulpine nightmare.
"People have mixed horror and porn before, but werewolves haven't been done, almost at all," he adds, with irrepressible excitement.
"For my birthday," the 39-year-old Greenwood adds, "MissaX gave me the opportunity to create the movie I wanted. And we are doing it."
The tall, bearded Montreal native grew up mesmerized by John Landis' "American Werewolf in London," which reinvented the ancient lycanthrope mythos for 1980s, "Stranger Things"-era kids.
Greenwood was, and still very much remains, obsessed with what he calls "the Transformation" — i.e., the "money shot" of classic werewolf movies, where an accursed man (and it was usually a man) painfully and dramatically sees his limbs, face and rest of the body turn into that of a ravenous beast.
Part of what makes these Transformations so special is that they typically eschew digital trickery and are achieved by a precise, artisanal combination of practical effects and skillful lensing and editing.
"We are doing it old school," Greenwood explains, pointing at the kitchen of the shoot house, where a patient Ashley is being fitted with prosthetics that were molded back in November 2020. "She's going to have fingernails growing, and hair on the hands, and teeth," he chants like a kid in a candy store sponsored by Fangoria.
But she can't fuck while she's being a werewolf.
"No, those are the rules," Greenwood shrugs. "These Mastercard people are so weird: you can't fuck vampires, because they say it's 'necrophilia.'"
But they are not dead, XBIZ quibbles. They're literally undead.
"Good try. You can't fuck the vampire," he replies.
How about zombies?
"Also 'necrophilia.' No. You can have the zombies, but you can't fuck the zombies," he laughs.
That conversation took place in February. A few weeks after wrapping, Greenwood called XBIZ to explain that the compliance powers-that-be had objected to the title "Blood Moon Rising" and that the movie would have to be euphemistically retitled "Red Moon Rising."
A few weeks after that, Greenwood called again. "Red Moon Rising" was still too close to blood. His werewolf porn movie is being released as "Blue Moon Rising."
A Connoisseur of Retro Genres
This form of corporate censorship seems particularly silly to Greenwood, who grew up idolizing the absolute freedom enjoyed by 1970s directors in what was the creative trifecta of New American Cinema (influenced by the French New Wave and mixing art and pop culture), the grindhouse/exploitation boom (which later spawned fellow video store fanatic Quentin Tarantino) and the Golden Age of big-budget porn.
Greenwood is a connoisseur of that era, with a decided nostalgia for a world of vinyl, classic illustrations of dames and motorbikes, and the kind of retro-cool that was cultural currency in the pre-internet 1990s. He collects vintage movie posters, including a first print of 1974 big-screen eroticism classic "Emmanuelle" and reissued Blu-rays of obscure 'nunsploitation,' women in prison, 'warsploitation' and other forms of smart, sex-and-violence fare from the drive-in era.
Once he landed in Los Angeles around 2017, Greenwood took it as his not-so-secret mission to bring back that sensibility to 21st-Century porn. It wouldn't be far-fetched to say this Canadian auteurmcreated a niche for himself, convincing established studios like Mile High Media, Sweet Sinners and MissaX to let him fulfill a personal fantasy, while expanding the porn fanbase to a demographic that's perhaps too smart for "My Stepsister is Stuck in the Fridge (Again)" and too snobbish for "Big Franchise Adaptation 34: A XXX Parody."
And so Greenwood begat decidedly retro-tastic titles like "Confessions of a Sinful Nun" (2017), "Talk Derby To Me" (2018), "Confessions of a Sinful Nun 2" (2019) and "Killer on the Loose" (2020), awards-season titles that also happen to be acclaimed by the industry. He did a riff on "Blair Witch Project" with "Terror Camp." He even porn-ified the blaxploitation genre by shooting Ana Foxxx like a Pam Grier-level goddess in "Sweet, Sweet Sally Mae."
Greenwood has cannily managed to achieve what many "videostore kids" of his generation have daydreamed in the past: to join porn and talk himself into an on-the-job apprenticeship as if this were still the days of Roger Corman, Sam Arkoff or Larry Cohen.
But with fucking.
Just not the werewolf.
Girl on a Motorcycle
It does help Greenwood that a large number of porn performers are also former theater kids — some on the DL and some open about their pro acting ambitions and achievements — and that they're really appreciative of a porn director who gives them a chance to show off their dramatic chops.
Over the last four years, Greenwood has gained the trust and respect of a number of the best actors in the industry, starting with his "nunsploitation" riffs that gave him a justification to put in (un)holy habits a who's who of talented all-girl thespians like Charlotte Stokely, Mona Wales, Serene Siren and even the legendary Nina Hartley.
For the werewolf movie, Greenwood and Alff began with only an image — and a specific casting request: Aiden Ashley.
"Aiden is riding in the back of a motorcycle and going in the woods with some guy — how did she get here?" the director told his writer. "Then the story follows."
Alff said that Greenwood also told him that he wanted a feminist twist. "I wanna do a werewolf movie, but only the women are the werewolves," he instructed.
The other ingredient Alff was given was, yes, "the Transformation."
Aiden Ashley, Super Trooper
Sitting on a makeup chair in the kitchen of the shoot house, Ashley reclines as the FX specialist, whom Greenwood has hired away from his usual mainstream gigs, works on putting elaborate prosthetics on her face and hands.
Upstairs, the crew waits in a small interrogation room. Ashley's character's Transformation occurs during an interrogation where she becomes enraged at Pistol's asshole cop. It has to be shot in increments, so for every few seconds of footage, Ashley has to go downstairs and get a few more pieces of fur and makeup applied.
"Ricky and I work well together," Ashley tells XBIZ, pointing out this is their fifth collaboration after "Girls of Wrestling," "Christmas Movie," "Killer on the Loose" and "Terror Camp."
Ashley's patience with the prosthetics speaks to her appreciation for Greenwood's love of filmcraft. "The more movies we do together, the more we understand each other," she says. "He now knows I'm up for any kind of physical acting and he can write me those parts. Before porn, I did extreme sports. When Ricky explained to me his idea for 'Girls of Wrestling,' I was singing from the rafters."
The actress and the director also share a common goal of one day making non-porn horror movies.
"That would actually be my dream," adds Ashley.
Greenwood initially told Ashley about his werewolf movie in early October, before Halloween. Alff had a first script in November and shortly thereafter the FX artist cast the molds for the prosthetics that would be used on the two werewolves, Ashley and co-star Brooklyn Gray.
"I actually had experience with prosthetics," Ashley says, explaining that in 2013 she had been part of a multimedia project by the visionary artist Paul McCarthy, "White Snow," a Snow White-themed art installation where she played the titular princess.
Although fine art does fascinate her, ultimately Ashley, like Greenwood, always gravitates towards horror.
"That's my passion," she says, as her face becomes almost entirely engulfed by a furry mask and her teeth have become fangs. "Horror, super-campy old-school movies. My favorite is 'Devil's Rejects' and I love all the psychological horror. Acting-wise, I don't do great at comedy, but give me a damsel in distress or a badass and I kill it."
Curse of the Werewolf
For Greenwood's werewolf movie, Ashley gets to be both damsel in distress and badass, putting in the really long hours, as her director notes, to "carry the movie on her back."
"She's a trooper," is what every person involved with the project said when asked to describe her level of commitment; a process, besides enduring the grueling makeup sessions, also included laying completely naked and still in a non-warm February day in the middle of the woods for long stretches of time.
"She's incredible," Greenwood adds. "She had to go through three or four hours of makeup and then two hours to remove the whole thing at the end. She's a real pro and I can't wait for everyone to see how great she is — and to remember that during awards season."
Months after the shoot, Greenwood continues enthusing about his leading lady. "Aiden is incredible in this project, she gives everything to bring that story to life," he tells XBIZ. "She went the extra mile to make sure we will have the best movie possible."
Greenwood is referring to unforeseen difficulties that forced him — like his 1970s low-budget idols — to improvise on the spot in order to bring the ship to port.
"'Blue Moon Rising' was an ambitious project," he says now. "We had to do a lot of pre-production ahead of the shoot and the actresses did a terrific job in preparation for the shoot. The shoot was a fight against time and technical issues, but MissaX made the [post-production process] so smooth that we ended up with an amazing finished product."
Greenwood, earning his stripes as an on-the-spot problem-solver the hard way, admits the movie was "a very difficult project, and definitely the most ambitious project for me [to date]. But it gave me the motivation to jump into another, even crazier project, which we will start filming this month. I guess directors like to live with the pressure."
By realizing his childhood dream, though, Greenwood may have defied the ancient gods.
"Werewolf movies in the mainstream are often attached to a 'curse' — and I think maybe it followed us into the porn world!"
Photos: Gustavo Turner