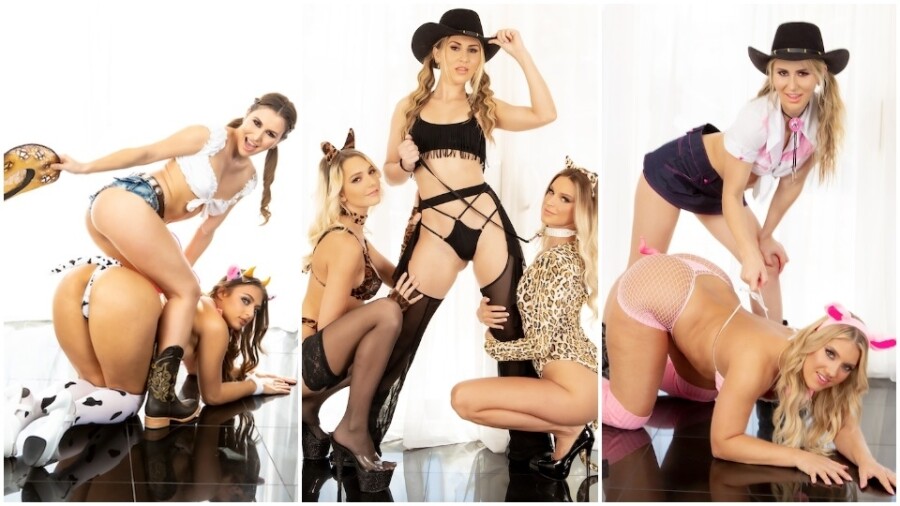 Paige Owens Corrals 'Frisky Anal Nymphos' for Evil Angel
LOS ANGELES — Paige Owens toplines "Frisky Anal Nymphos," a performer showcase from Evil Angel and director Chris Streams described as "a feast of primal lesbian kink."
"Throughout the movie, the sculpted star is a sexy cowgirl sharing dirty behavior with crazy girls wearing wildlife costumes or accoutrements," a rep teased. The performer enjoys "strap-on fun, graphic milk enemas and a messy, five-girl orgy."
The cast includes Candice Dare, Gia Derza, Emma Hix and Kenna James.
"This is the most fun I have ever had making an all-girl movie," Streams declared. "Paige was simply amazing playing the farmgirl, and all the 'critters' just killed it."
The title's "ultimate scene" goes live online today, a "group-sex jamboree in which cowgirl Paige wrangles everybody in the all-star cast," explained the rep. "Ms. Owens wields a purple strap-on and demonstrates her talent for ejaculating pussy squirt. Mr. Streams lines up a five-girl rim job chain, and five cheeky butts simultaneously spew milk enemas."
James described the shoot as "the perfect pairing of really amazing talent."
"I always love shooting with Chris," she added. "This is one of my absolute favorite projects. We had a lot of fun."
Castmate Dare echoed James' enthusiasm.
"This scene was absurdly out-of-the-box," she quipped, "but a blast to be in."
Elsewhere, the two women "sport cheetah print in a sapphic threesome with Paige. A nasty metal hook makes Emma's anus gape. The ménage à trois delivers spitting, spanking, more splashy enema hijinks, and Paige's intense anal orgasm," said the rep.
Moving on, "Paige finds hot-assed Gia in a bovine get-up. The nubile girls suck a double-headed dildo, and milk trickles from Paige's butthole onto Gia's tongue," while "curvy Candice looks adorable in a pig costume with a curly-tail butt plug. Farmgirl Paige porks squealing Candice's cornhole with a carrot."
All scenes from "Frisky Anal Nymphos" will be available today at EvilAngel.com; the title makes its DVD/VOD debut tomorrow. Visit the studio on Twitter.
For domestic sales, contact Rick Porras at rick@evilangel.com; for international sales and licensing, email Alexandra Kelley at alex@evilangel.com.