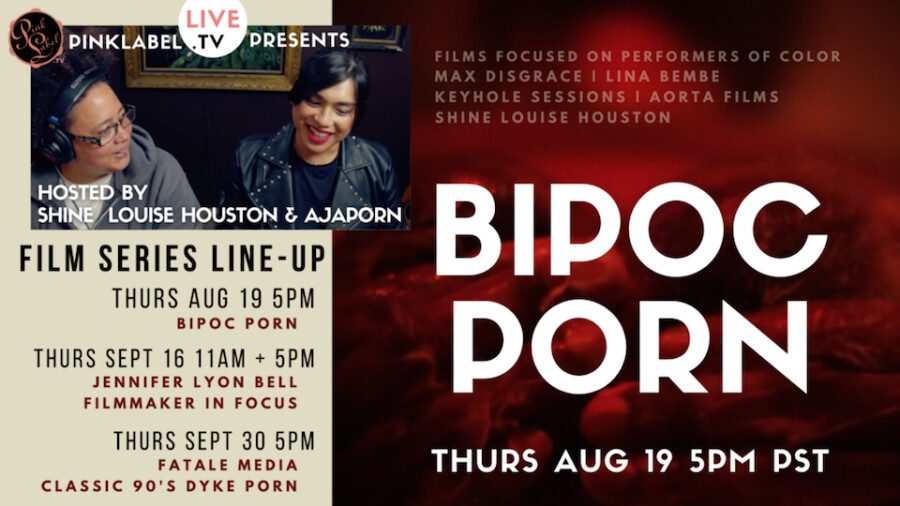 'PinkLabel.tv Live' Presents 'BIPOC Porn' Screening
SAN FRANCISCO — Pink and White Productions has announced "BIPOC Porn," the next event in its "PinkLabel.tv Live Presents" virtual adult film screening series.
Audiences are invited to join PinkLabel.tv creator and curator Shine Louise Houston and co-host Ajaporn to watch a specially curated collection of short adult films that feature performers of color, and engage via the site's text chat feed as they provide color commentary as the films play.
Ritual Waves
dir. Lina Bembe, UK, 2019, 5 min
A film centered in ritualistic practices of healing through sexual agency, Ritual Waves claims for a space of introspection and celebration through autoeroticism, with water as an element of strength, depth and resilience through fluidity.
Crystal Clear
dir. Max Disgrace, UK, 2017, 4 min
An erotic narration of a date unfolds packed with fantasy, expectations and unnecessary emotional baggage, whilst we watch from a face-sitting, boob smothering point-of-view.
Heavenly Spire: Cyd & Xavier
dir. Shine Louise Houston, USA, 2010, 8 min
Sweet and dirty, these two kiss and fist with ferocious tenderness. Cyd is a professional-grade cock ucker and deftly works Xavier's slippery asshole into a fisting frenzy. Xavier can hardly wait for his turn as he sucks and fucks Cyd into orgasmic oblivion. The intimate level of communication only amplifies the hotness. What's hotter than holding hands while you're getting your dick sucked?
Pachisi
dir. The Madame, Canada, 2015, 5 min
'Pachisi' shows what kinds of games can be played between lovers. And who comes out the winner.
Documenting Desire: First Thing
dir. Mahx Capacity, Germany, 2018 20min
That feeling when you wake up, and need some Mahx and Kali first thing… Mahx Capacity meets Kali Sudhra in the Berlin loft early in the morning, ready to plan and ready to play. Living on mate and adrenaline during the porn film festival, these two powerhouse performers match up in a sweet and switchy scene you don't want to miss. Watch Kali and Mahx discuss and create some sexy, joyful, finger-sucking good porn; there is just no better way to start your day.
BED PARTY: Jack HammerXL and Nikki Darling
dir. Shine Louise Houston, USA, 2014, 20 min
Director Shine Louise Houston is back with her critically acclaimed 'Bed Party,' once again flipping the porno script with a 'porno vérité' documentary style look into the private sex lives of some of porn's couples. Pansexual Jack Hammer XL is an expert rope and BDSM practitioner who's found a partner in queerly fluid Nikki Darling. They share a love for power play, pleasure, bondage and breath play. If you want to see what tender and thoughtful rough sex looks like, look no further. Presented in the honor and memory of the late Jack HammerXL.
The one-night only event streams live on Thursday at 5 p.m. (PDT) and is free to members of the platform's subscription service PinkLabel+.
For more information about the titles and to watch the event, visit PinkLabel.tv.