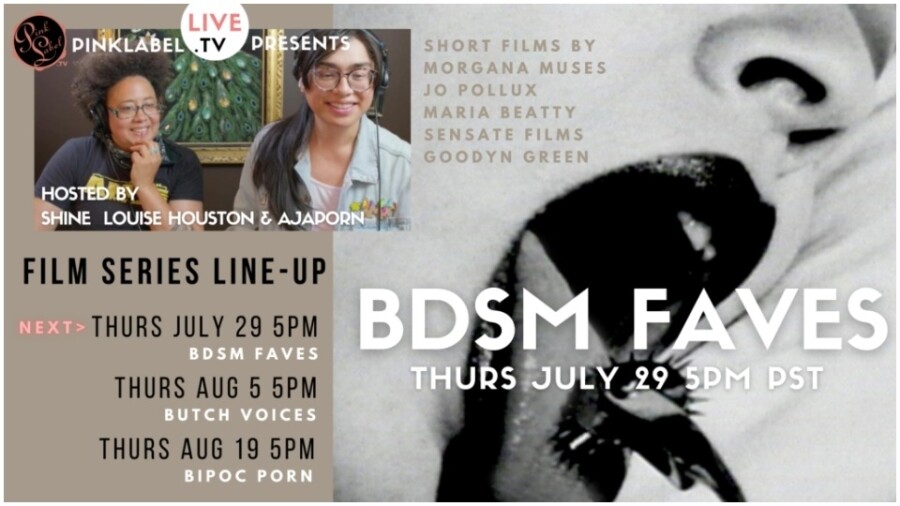 PinkLabel.tv to Present 'BDSM Faves!' Virtual Screening
SAN FRANCISCO — The next event in the "PinkLabel.tv Live Presents" virtual screening series is "BDSM Faves!" featuring "an international ensemble of celebrated female adult filmmakers" on Thursday, July 29, at 5 p.m. (PDT).
The event will be hosted by PinkLabel.tv creator and curator Shine Louise Houston with Ajaporn as they "watch a specially curated collection of short adult films in real time, and engage via the site's text chat feed as they provide color commentary," noted a rep.
Filmmakers in the spotlight include Maria Beatty ("The Black Glove," 1996), Goodyn Green ("Breathe," 2016), Morgana Muses ("It's My Party and I'll Fly if I Want To," 2014); Jo Pollux ("Trimming the Wick," 2018) and Gala Vanting ("Amber," 2012, co-directed with Frank Ly for Sensate Films).
The event is free to PinkLabel+ members; non-members may purchase a Film Pass for $7 (plus fees). The screenings are in English and open to those aged 18 and older; audio descriptions and closed captioning are not currently available.
Visit PinkLabel.tv for additional program details.
Follow Shine Louise Houston, Pink and White and PinkLabel.tv on Twitter for the latest updates.
Upcoming "PinkLabel.tv Live Presents" programming includes "Butch Voices XXX" (August 5), "BIPOC Porn" (August 19), "Jennifer Lyon Bell" (September 16) and "Fatale Media in Focus" (September 30).