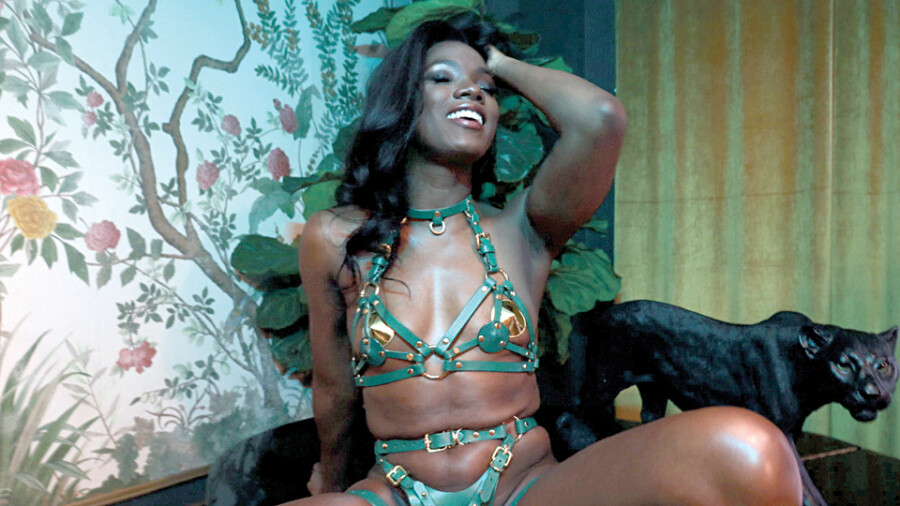 Q&A: Ana Foxxx Reflects on Vibrant Decade of Stardom
LOS ANGELES — Rialto's city lights twinkled in the rear view mirror as Ana Foxxx headed west to the heart of Los Angeles, craving excitement and a change of pace over a decade ago.
Studying to become an art teacher, she worked at her college's bookstore before a fateful meeting with an industry talent agent at a club.
"My cousin was a promoter," she recalled, "and I'd seen them promoting porn parties, which I thought were very cool. Up until then, I had only seen Hustler mags on the back of my dad's toilet."
With a mirthful chuckle, Foxxx revealed that she actually asked the agent to get her then-boyfriend into porn, hoping he would up his bedroom game with her. "I wanted him to give me more orgasms," she confessed.
After dabbling with camming for a month, she decided to go all in on adult in 2011. "It went great," she said, noting her initial concerns about getting scammed by shady businessmen quickly fell by the wayside. "It turned out to be legit, and so my first year was pretty standard for a new girl."
She scouted other agents for a time, many of whom were not interested given her nascent stardom grew brighter. So, Foxxx spent a few years building relationships with directors, before going independent.
Amassing nearly 600 scene credits, as well as awards and critical acclaim, Foxxx would go on to become a Spiegler Girl and Fleshlight Girl in 2018, co-host the XBIZ Awards alongside Abigail Mac and sign as a full-fledged producer for Playboy Plus in 2021.
To spotlight such a storied career, which shows no signs of slowing down, XBIZ basked in Foxxx's radiance for this exclusive interview.
XBIZ: With a decade of adult under your belt, which studios and directors do you most enjoy performing with?
Foxxx: Working for Kink is always amazing and Axel Braun is really awesome. Anytime I get to work with women is always a favorite of mine, so Jacky St. James is definitely great.
Casey Calvert, especially, is incredible. Shooting for her Lust Cinema movie "Primary," I felt like she had read all of our diaries and cast us accordingly to our characters. I played a "polyamorous bossy wife," which is basically my spirit animal.
I also really enjoy shooting gonzo scenes for Mike Adriano and Billy Visual, who is kind of a nice middle ground between gonzo and features. And probably my longest-ever shoot was "Saving Humanity" from 2015, an ATKingdom feature that took many days to complete.
XBIZ: How have you grown your fan base over time and monetized your following beyond adult shoots?
Foxxx: I'm actually kind of surprised so many people follow me, I think they like my butt cheeks, haha. Originally, I was just posting whatever and developed a fan base organically. Now, I'm lucky enough that my little B cups haven't gotten me deleted yet. Instagram is really mean to women with big breasts.
I will say that I don't do feature dancing, mostly because I only dance well when I drink tequila; though I did try it out once on an amateur night. I've also become much better at saving money from monetizing fans, because I definitely fucked up early on. I wasn't used to making so much money at first! But I did a lot of learning on the fly, which taught me how to "adult" pretty well.
I do create a lot of OnlyFans content. My style is more cinematic than amateur. I didn't want to create that feeling of recording from an iPhone in the room, especially since I'd shot with and learned from several really nice companies. So, before COVID hit, I would rent sound stages and go all out, then when the pandemic happened, I switched to producing solo content. I would try to cinematically masturbate, haha.
XBIZ: How else have you adapted to lockdown life?
Foxxx: I'm not going to lie, I actually had fun this past year of lockdown, and I'm a little bit sad that it's over. I didn't mind being by myself and doing whatever I wanted to do. I didn't mind the break. I also ordered every kind of slutty costume that you could order on Amazon. I was a stewardess for all the airlines, even Spirit. Before studios reopened and I was able to start renting locations again, I had to shoot in my boyfriend's backyard or even in my closet. So, all those costumes helped make it feel less like "MTV Cribs."
I really do like OnlyFans overall though and my Fleshlight sales have done pretty awesome. It really put into perspective how many fans I have, by how many of them buy replicas of my vagina and asshole. Either the same customers are breaking the Fleshlights they have and are in need of new ones, or there really are that many diehard fans.
After spending so much time away from people, I didn't want to jump back in quite yet. I'm still waiting a little bit for the dust to settle. I've got one foot in, and one foot out. Once I do a gangbang again, I'll feel like I'm totally all in, haha.
I also want to give a shoutout to Lotus Lain and Isiah Maxwell, whose friendship has been so valuable during this time, and over the years. They were not only among the first people I met in the industry, they're my best friends today.
XBIZ: Recently, as Playboy Plus seizes headlines with a talent-centric marketing blitz that even includes monthly All Stars, they announced you as a producer for the brand. Tell us about your friendship with marketing director Holly Ruprecht and how the opportunity came about.
Foxxx: You know, it's kind of funny, because I wasn't sure how it all came about until I heard from Holly Ruprecht. I've had a really good relationship with her for a long time and she had been listening to me speak on a forum about working for companies that don't have make-up artists suitable for black talent on set, or black photographers that know how to light me.
And when I worked for Playboy Plus, Holly saw how I was on set, practically taking over the creative direction telling everyone, "I'm going to wear this and here's what I'm doing," so it was a no-brainer for her to have me create content for the brand. And I'm very happy! We don't necessarily have a contract situation, I just give her a list of people that I think are really awesome, and then we go about trying to make them look like majestic creatures. It takes a lot of time, with a lot of "yes" and "no," and you know COVID-19 has proven challenging, so that's taken a lot of effort to work around.
So far, I've done one shoot and we have three more that will be shot starting in May when we start up again with Julie Kay, Natassia Dreams and more. The first shoot was awesome; I chose Misty Stone. She's a legend, and if you've ever met Misty, you know she doesn't need any direction (even though she was asking if everything was great), she was perfect on her own.
The shoot was titled "Natural Desire" and it comes off exactly that way, naturally chilling, smoking with a gown, ripping up flowers … and then she gets naked (and I really like her butt). With her wardrobe I didn't want her to wear anything I'd seen anywhere else so I picked one of her outfits from a Ukrainian designer, and I used another outfit with one of Playboy's partners Yandy. It was a twostory house in the hills; I ran up like 55 flights of stairs, but it was a really fun house we got to play with a drone, plus there was a swing outside.
XBIZ: What is your directing style for Playboy Plus given your cinematic approach to producing independent content?
Foxxx: That's why it felt pretty natural to shoot for Playboy. Between the content I've produced for girl/girl scenes like Filly Films a few years back, to all the custom stuff I make and from being on set many years too, I kind of knew what to do. It also takes experience with darker skin to be good at it; the majority of women are light, so you kind of have to go outside the casual MUA circle to get the right talent. They don't have to be a black MUA themselves per se, because I've had other people do makeup who did fine, since they'd worked with it.
XBIZ: Any other projects you're excited about for the coming year?
Foxxx: I'm trying to produce for Bellesa House. I like being able to have eight jobs if I can; I just want to keep being a beast and producing content for people. And I want to keep producing quality content for my OnlyFans, with a unique fashion sense. Too often in porn, we shop at Forever 21, so I try to break away and make myself look cool with different aesthetics. I also look forward to setting up more photoshoots and improving my craft overall.
Ana Foxxx