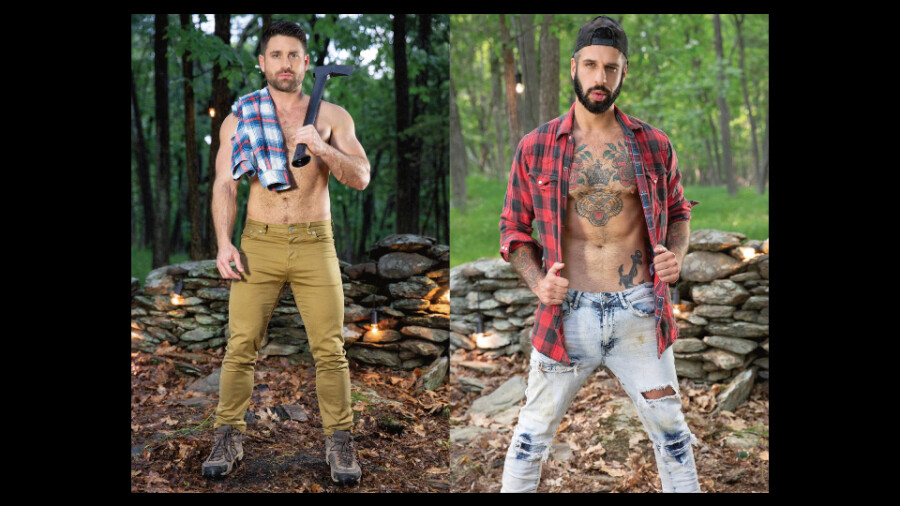 Raging Stallion Teases Debut of All-Male Sexfest 'The Territory'
SAN FRANCISCO — Raging Stallion Studios is touting the forthcoming release of "The Territory" from reigning XBIZ "Director of the Year" Marc MacNamara with the online debut of sexplay starring studio exclusive Beau Butler and Romeo Davis.
The remaining hookups from "The Territory" will debut over the coming weeks, ahead of a full release in all formats on September 3.
"After a hard day of cutting firewood, the humble and rugged inhabitants of 'The Territory,' Beau and Romeo, take a break on a pile of rocks where Romeo unzips his pants to let Beau deep-throat his uncut cock," teased a rep. "Now that Romeo's meat is fully stiff, he lays back so Beau can stand over him while he eats Beau's hole. Romeo makes sure to lick every inch of Beau's hairy hole before spinning him around, so Beau can sit on his throbbing dick. The mountain men take a break from fucking to 69 on the bench before Beau bends over and gets stuffed with more of Romeo's massive trunk."
MacNamara noted the outdoor location was "a big physical ask for the guys."
"Being aggressively passionate outdoors with the heat, bugs and chainsaws — I can't wait for you guys to see how hot they were," he said. "They thrived and ate up every bit of sweat off each other. An amazing scene from 'start to penis.'"
Find Raging Stallion online and on Twitter for additional details. The site's content is available for promotion via BuddyProfits; direct inquiries to affiliates@buddyprofits.com.
In related news, Raging Stallion recently debuted newly signed exclusive Reign, opposite fellow newcomer Ian Holms, in "Get a Room, Too."