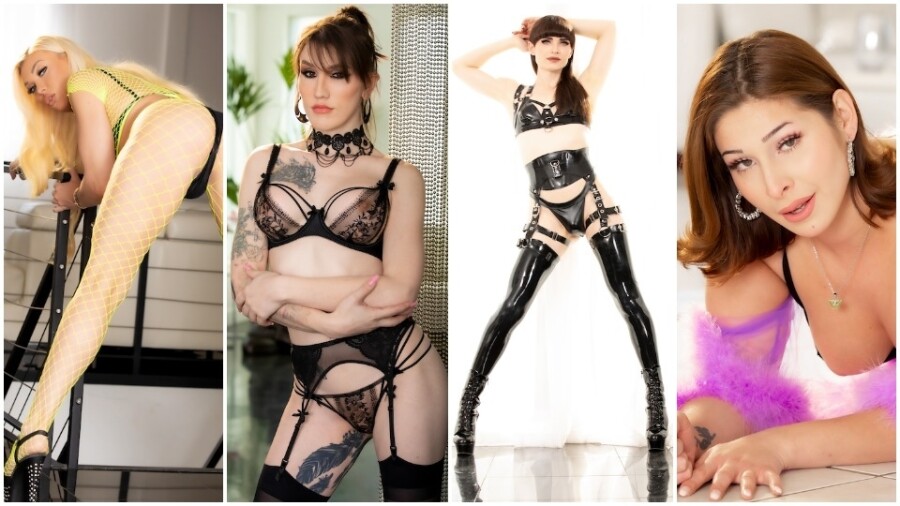 Ramon Nomar, Aubrey Kate Take Flight in 'Trans International L.A.' for Evil Angel
LOS ANGELES — Reigning XBIZ "Male Performer of the Year" Ramon Nomar directs and toplines "Trans International L.A." for Evil Angel, his first excursion into trans adult content. 
The starry cast includes blonde cover starlet Aubrey Kate in Nomar's first trans scene; Natalie Mars and Joanna Angel in a ménage à trois with Nomar; Lena Moon with reigning XBIZ "Performer of the Year" Dante Colle; and Alexa Scout opposite Wolf Hudson.
"Aubrey ignited my curiosity about the trans world," Nomar explained. "Her beauty, her looks, her way of doing the scene will drive crazy any performer who will be lucky enough to be paired with her."
Kate noted, after waiting years to work with Nomar, the experience had "an amazing flow."
"Once the camera started, I feel like they said, 'This is a wrap.' I guess time flies when you are having fun," she enthused.
The director-star noted the "exciting and playful encounter" between Moon and Colle.
"Both very passionate for each other, with orals to set the mood for penetration. They follow their desire more than any direction," he said. "That's the secret of this movie — sexual flow. We can see happiness on both during the whole scene, while Lena shows us how easily she gapes and Dante keeps penetrating in different and interesting positions, attracted by Lena's beauty and naughtiness."
Nomar recalled his threesome with Mars and Angel as "transcendent."
"Leather and latex drive us during the beginning, where Joanna was super-excited to go from cock to cock, waiting to get double-penetrated, but more things happen before that: Deep-throats by both girls, anal sex for both, and Joanna even squirted on Natalie while I was fucking her butt," he recalled. "It's incredible how the possibilities for double-penetration scenes open up when you have a trans performer as a partner."
Mars described the passionate encounter as "a kinky fantasy come true to work with these two legends."
"I'm so grateful to see more performers working with trans women, and it's my hope that more will follow suit," she continued. "Let's break down those barriers."
Nomar said the tryst between Scout and Hudson is "an intimate encounter" that starts with the pair "playing organically. You will discover Alexa's delicious sex skills. She is shy and hungry at the same time, devouring Wolf's cock and doing anal like the pro that she is. A fun one to watch."
All four scenes will be available by May 2 on EvilAngel.com; visit the studio on Twitter for the latest updates.
For domestic sales, contact Rick Porras at rick@evilangel.com; for international sales and licensing, email Alexandra Kelley at alex@evilangel.com.