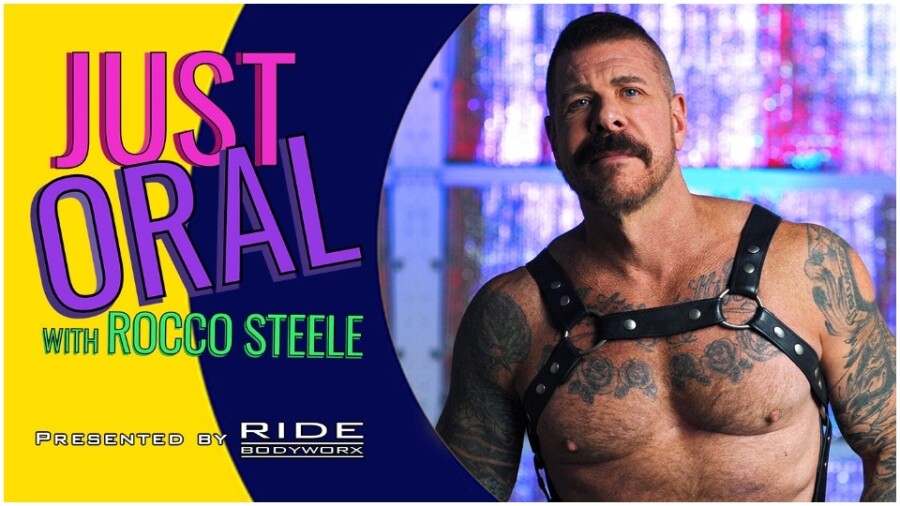 Ride BodyWorx Sets New Season of 'Just Oral With Rocco Steele'
DALLAS — LGBTQIA+ sexual wellness brand Ride BodyWorx has announced the second-season premiere of its video podcast "Just Oral With Rocco Steele" on August 27.
Steele, the 2016 XBIZ award-winner for "Gay Performer of the Year," hosted a four-episode inaugural run earlier this year; the second season has been expanded to 10 episodes.
Steele partnered with Ride Bodyworx for the launch of his namesake lubricant brand, Ride Rocco, in 2020.
"'Just Oral' was born out of my desire to build a deeper connection with my diverse fanbase, and to offer a glimpse into our personas outside of our performance work they are used to seeing," Steele said. "It's like having a special access pass to peek behind the curtain of some of gay adult and mainstream's brightest stars chatting about something we're all interested in — sex."
"Each episode will be topical, focusing on a specific aspect of queer sexuality, from gender to kink and beyond," he continued. "It's time to start a dialogue about queer people and human sexuality that helps move the needle on normalizing freedom of sexual expression. I know our viewers will be entertained, but I hope they also find takeaway lessons that are useful in their own sexual experiences and journey."
Forthcoming guests for the second season of "Just Oral" include 2020 XBIZ "Gay Performer of the Year" Pierce Paris, 2020 XBIZ Cam Awards winner for "Best Male Premium Social Media Star" Matthew Camp and "RuPaul's Drag Race" breakout star Trinity the Tuck.
"Working with Rocco on this project has been exciting," Ride BodyWorx Marketing Director Erik Vasquez said.
"Having one of the biggest gay porn stars at the helm of this show is already extremely valuable, but add in his hot, famous, super-gay friends to talk sex and we've got content gold on our hands," he added.
Find "Just Oral With Rocco Steele" on YouTube; follow Ride BodyWorx online and on Twitter.
Visit RideRocco.com and follow Rocco Steele on Twitter.