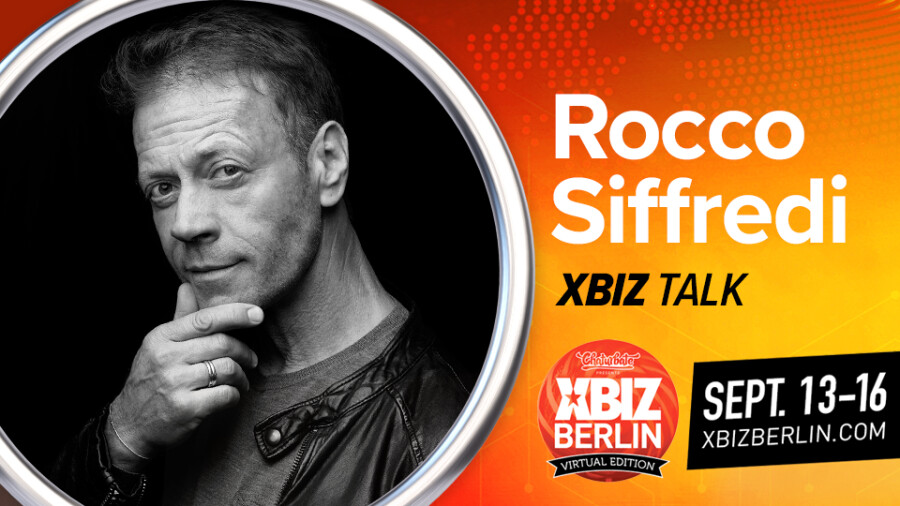 Rocco Siffredi to Give Rare Life-Spanning Interview at 2021 XBIZ Berlin
BERLIN — Adult superstar Rocco Siffredi will be a featured guest speaker at the second virtual edition of XBIZ Berlin conference, taking part in an unprecedented one-on-one interview led by XBIZ Founder and Publisher Alec Helmy on Wednesday, September 15.
The multi-XBIZ award-winning performer will open up about his storied 30-year dominance of the adult entertainment world as a prolific producer, director and — of course — one of the most decorated male performers in history.
The man known around the globe on a first-name-basis simply as "Rocco" will share stories about his career path all the way up to his latest, Netflix-style production "The Spanish Stallion," his in-person training program for aspiring male performers "The Academy" — now in production and soon to shoot a second season — a book, "Sex Lessons," he published in Italy during the pandemic and his many other endeavors.
Siffredi spoke to XBIZ from his home in Budapest to offer a sneak peek of the upcoming interview.
"The main reason why I do 'The Academy' show, besides to encourage tourism, is to make the dreams of people come to life as it was when I was a young man and I wanted to be a porn star. There was no way to do it! Today, through 'The Academy,' I can show those people what we do, how we do it, how a professional set is run — and I give them the hope that they can also one day be a porn star."
"The second reason I do the show," Siffredi continued, "is because I love porn, and I also love real sex. When you deal with real people, you can enjoy real emotions, which are different from some of today's very professional performers. I don't care if the scene is too short or if they fail, but with these guys at 'The Academy' you get to see real expression of emotion."
Although sales figures for "Sex Lessons" are not yet in, Siffredi said "the success was there from the get-go with the media loving it."
"All the journalists who read it and interviewed me found the book so sincere and so useful, and they really think it's so important in this moment in history," he notes. "That was good enough for me — to have the support of the media, which is a little bit difficult sometimes. They love it! So it was fantastic for me."
Although attendees of the upcoming interview may think they know about his background from the popular Netflix documentary "Rocco" (2016), Siffredi says that they should still tune in for a more complete picture.
"The documentary I did when it was the right time for them, the documentary people, and the worst time for me," Siffredi reveals. "When it was made, I was 50 and I was facing a lot of difficulties for myself. I tried to give answers to many people and in the documentary we see all this, but if people watch the documentary they need to figure out that was only a moment of my life — with a lot of suffering, and the suffering came from life and from passion."
Siffredi welcomed the adult entertainment community to join the interview "because it is essential to keep tuned to the business, and to keep tuned to the news, which is to say — to keep tuned to what we do."