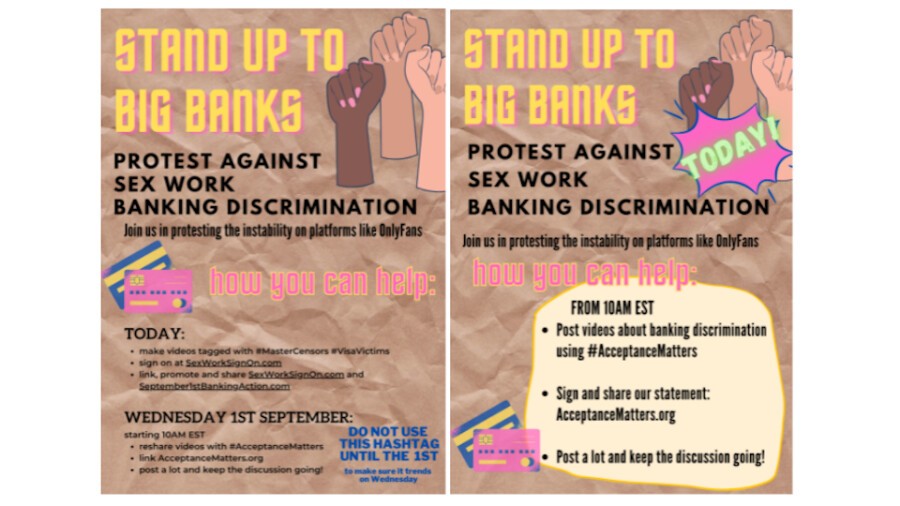 Sex Worker Collectives to Protest Against Banking Discrimination Tomorrow
NEW YORK — A group of national and local sex worker collectives are planning a series of online actions and offline protests tomorrow to "demand an immediate pause" on Mastercard's new adult content guidelines effective in October and to "protest ongoing discrimination from the banking industry."
The collectives want the credit card giant to suspend the implementation of the new rules "pending the creation of stakeholder advisory councils." 
"MasterCard's proposed policies have numerous serious flaws and will result in a major chilling effect and destruction of many ways of working for sex workers and other impacted parties by denying access to financial infrastructure," said a rep. "We are also protesting debanking like MasterCard's pullout from Pornhub and discrimination from banks (like BNY Mellon) that caused OnlyFans to almost drop adult content."
The September 1 protests aim to "demand a stop to discrimination against sex work and to policies made without stakeholder input and care for harm."
"While every set of statistics show most CSAM and other abuse is on so-called 'safe for work' sites, MasterCard's policies are intentionally written to require only adult sites to adhere to new draconian policies," explained one of the organizers. "Both survivors of abuse and adult workers – many of whom are the same people – deserve better than policies that sidestep nuanced internet-wide harm reduction in favor of scapegoating a specific category of highly stigmatized labor."
"We decided to protest in person outside BNY Mellon because it was revealed in recent reporting that they flagged and blocked every transaction to pay creators through the OnlyFans platform, contributing to instability that almost caused the platform to kick all adult content," the organizer added.
For more information, visit SexWorkSignOn.com.
The protest is scheduled for several cities on Wednesday September 1, 10 a.m. (EDT), with a main event in New York City at the Bank of NY Mellon HeadQuarters, 240 Greenwich St., organized by SWOP Brooklyn.
Additional protests are being organized for Los Angeles, Las Vegas, Philadelphia, and Houston.