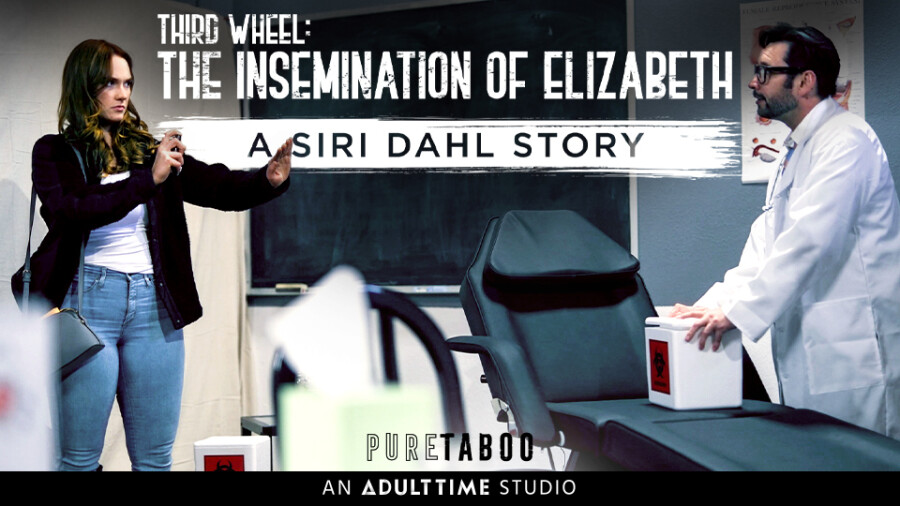 Siri Dahl Stars in Newest Chapter of 'Third Wheel' for Pure Taboo
MONTREAL — Siri Dahl headlines the next chapter of Pure Taboo's story-driven series "Third Wheel" with "The Insemination of Elizabeth: A Siri Dahl Story," set to debut September 7.
Dahl will host a live Twitch stream today from 5-7 p.m. (PDT) to promote the release "decked out head-to-toe" in branded gear from Adult Time, parent company of Pure Taboo.
"The Insemination of Elizabeth" opens with Dahl continuing in her role as Elizabeth, who is estranged from her wife, Terri (Lena Paul) after "a heartbreaking betrayal," noted a rep.
"Elizabeth remains steadfast in her quest to become pregnant on her own after years of infuriating failure, so she enlists the help of Dr. Torrance (Tommy Pistol) and his surefire, patented 'breeding bench' to help seal the deal. Then, and only then, will Elizabeth consider returning home to Terri," the rep continued.
Dahl described the release as "so much fun to create."
"In many ways, it was wish fulfillment for me — I wanted to do something based on the concept of a 'breeding bench,' and I really wanted to reunite with one of my all-time favorite male performers, Tommy Pistol," said Dahl. "Thanks to [director] Bree [Mills] and the amazing production crew, my wishes came true in the best way imaginable."
"We had so much fun on set that day playing out this incredibly wild scenario. Tommy is an amazing actor, and he had me in stitches all day. The scene itself is actually kind of dark — I mean, it is Pure Taboo, after all," she said.
"Viewers who watched the first part of Pure Taboo's 'Third Wheel' story will be surprised by the turn my character Elizabeth takes in this scene," Dahl added. "That's all I will say for now, because to appreciate it fully you're just going to have to watch it."
Visit PureTaboo.com and Adult Time for more information; follow Siri Dahl, Pure Taboo and Adult Time on Twitter and join Dahl's Twitch livestream here.