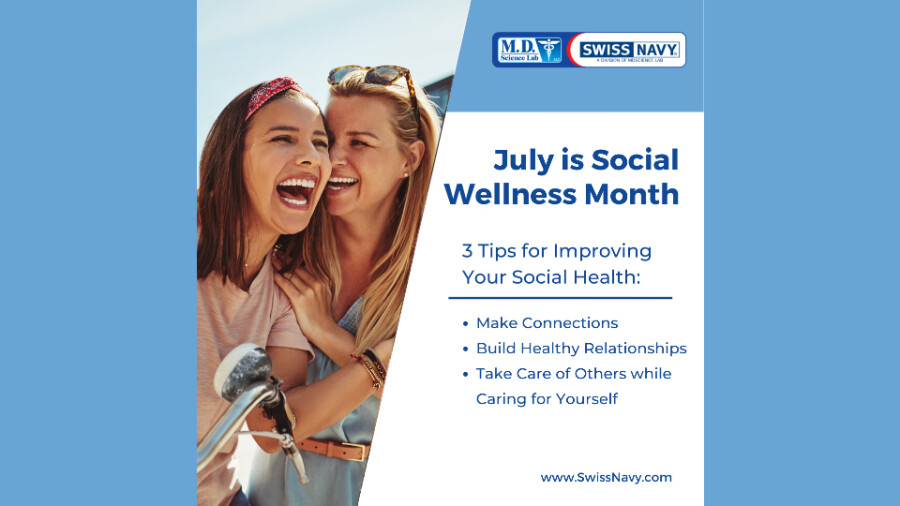 Swiss Navy Celebrates July as 'Social Wellness Month'
POMPANO BEACH, Fla. — M.D. Science Lab, maker of the Swiss Navy brand, is encouraging the celebration of "Social Wellness Month" throughout July.
"While Swiss Navy's team planned weekly video calls to stay connected over the past year, they also knew it was important to reach out to their industry family to check on their wellness," noted a rep. "Research has found isolation can impact health and that a healthy social life can enhance the immune system's ability to fight off infectious disease — which makes social connection key during our ongoing pandemic."
Briana Watkins, VP of sales and marketing for M.D. Science Lab, observed that "2020 and much of 2021 were pretty tough when it came to enjoying social relationships."
"It's important that people have a strong network to help them manage stress. Plus, having a social support group can be helpful in maintaining a healthy life," she said.
M.D. Science Lab's Intimate Health Advisor Dr. Sunny Rodgers explained how "Social Wellness Month" can serve as an important reminder that healthy relationships are an important component of physical and mental wellbeing.
"Humans are not meant to be solitary. We encourage everyone to practice social wellness by making positive connections with friends, family, coworkers and neighbors," she said.
Swiss Navy invites those who are interested in learning more about social wellness to explore an online toolkit created by the National Institutes of Health and to follow the #WellnessWednesdays social media hashtag.
Visit Swiss Navy online and on Twitter.