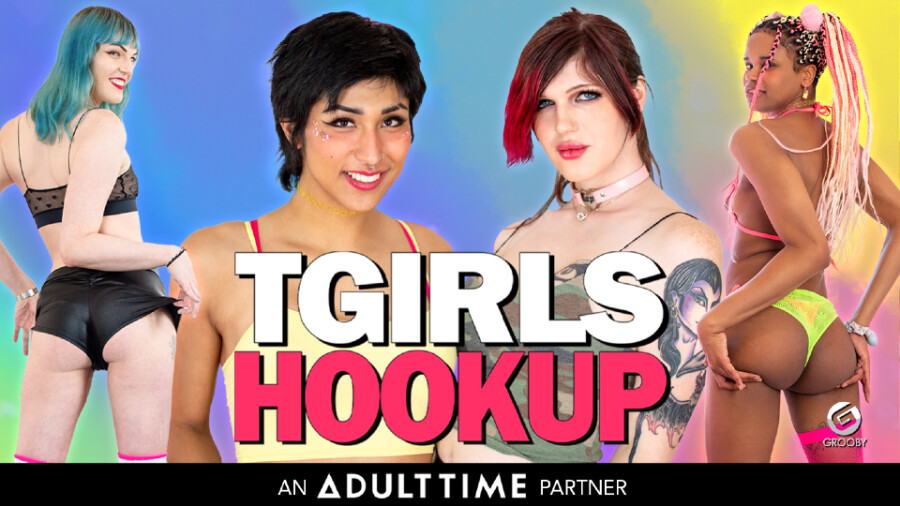 TgirlsHookup Channel Launches on Adult Time
LOS ANGELES — Grooby's TgirlsHookup has launched its official channel on Adult Time.
In early 2021, Kelly Quell partnered with Grooby to launch TgirlsHookup.com. The site showcased story-driven scenes centered around a fictional hookup app, featuring performers such as Alice Arctic, Autumn Sunflower and Kerri Labouche.
"We've had great success working with Adult Time for our Grooby channel, and thought that Kelly's TgirlsHookup, already part of our network, would be an ideal fit," said Grooby founder and owner Steven Grooby.
Quell was also enthusiastic about working with Adult Time, which she felt was "really sleek and had a lot of great content on it."
"We're glad to get to be a part of it, and we're excited to have the opportunity to bring them the rough, over-the-top, trans lesbian hardcore content the network seemed to be missing," Quell added. "It's fantastic that Adult Time is continuing to take more and more steps to be inclusive, and we are honored to get to be the first trans-owned-and-operated studio on the network.
"I figured it would be fun to combine gonzo porn, BDSM and reality porn, as there was nothing in the trans space that did that," she continued. "At the end of the day, it's really all about having fun first and making porn second, and I believe there are people looking for these fun, light, story-driven hardcore trans scenes."
Find the new collaboration on Adult Time.
Follow Kelly Quell and Adult Time on Twitter.