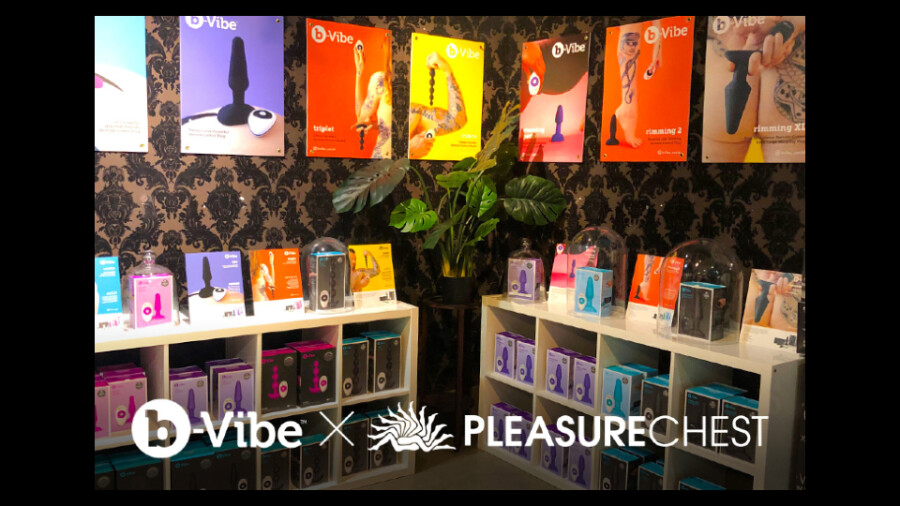 The Pleasure Chest, b-Vibe Partner on 'Anal August' Pop-Up
LOS ANGELES — The Pleasure Chest, celebrating its 50th anniversary, and b-Vibe, marking its fifth anniversary, are commemorating the milestones with a collaboration on a monthlong pop-up titled "A Vibe for Every Booty" and themed after "Anal August."
The installation will be featured at Pleasure Chest locations in Los Angeles, Chicago and New York.
"The Pleasure Chest is celebrating its 50th anniversary and with b-Vibe being a staff favorite, naturally we had to partner with them and support their fifth-anniversary milestone as well," Buying and Merchandising Manager Ruth Arceo said.
"The 'Every Body Has a Butt' campaign was the first pop-up I helped install when I first started at Pleasure Chest," Arceo added. "I am truly ecstatic to see b-Vibe make an appearance once again. Their campaigns are so wonderfully diverse, educational and approachable to any curious mind new to anal play."
With its "bold campaigns," noted a rep, b-Vibe "celebrates diversity and shame-free pleasure using detailed and supportive sex education. b-Vibe's high-quality products and solid mission of dispelling anal play stigma showcases the inclusive and fluid nature of backdoor play."
"A Vibe for Every Booty," the rep explained, will showcase the brand's "groundbreaking selection of products that are made for exploring anal play at any level. Among the products to be showcased will be b-Vibe's newly introduced 5th Anniversary Collection, Vibrating Jewels and Unicorn Plug, along with other bestsellers."
The pop-up offers "an engaging and eye-catching in-store destination for shoppers of the Pleasure Chest."
The Pleasure Chest has not hosted any in-person workshops since COVID-19; however, "we are happy to continue offering the educational experience through our pop-up with b-Vibe," Arceo said. "Their enjoyable approach to education is what sets them apart and aligns with what our customers expect when shopping at any Pleasure Chest location."
For more information, email sales@bvibe.com and follow b-Vibe on Twitter.
Follow the Pleasure Chest online and on Instagram.