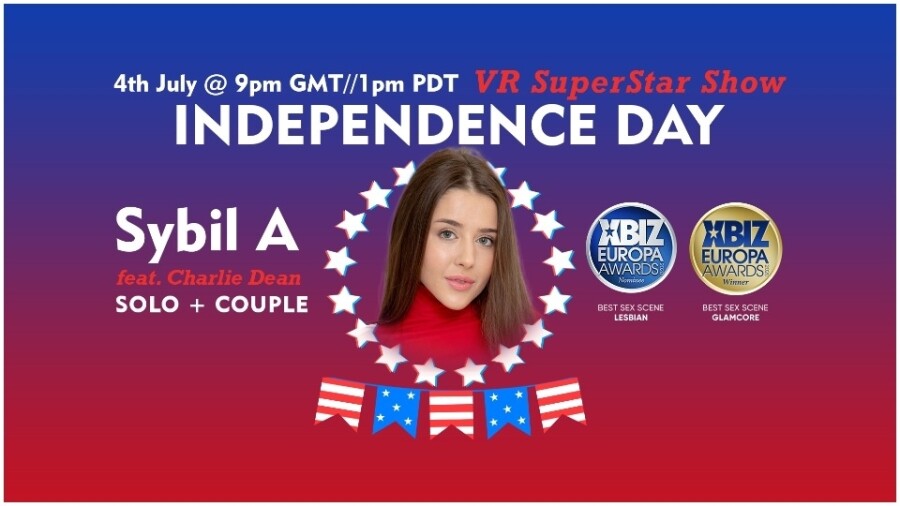 Top Platforms Set July 4th VR Show With Sybil, Charlie Dean
LOS ANGELES — Dreamcam, once again in collaboration with SexLikeReal and Stripchat, will host a two-hour "VR Superstar" livecast on Sunday, July 4, at 1 p.m. (PST)/9 p.m. (GMT) featuring Sybil A and Charlie Dean.
Last year, Sybil took home an XBIZ Europa Award for "Best Glamcore Sex Scene" for "Body Warmth" from Vixen and received a nomination in 2019 for "Best Lesbian Sex Scene," while Dean has picked up four XBIZ Awards nominations since 2018 in several categories, including "Male Performer of the Year."
The event will include two exclusive performances: a hourlong solo spotlight headlined by Sybil, followed by a "down-and-dirty" hourlong show featuring Dean, noted a rep.
Viewers will be invited to direct the action as it unfolds.
"Virtual sex has never been so real. It's our mission to put the fans in the driving seat, and give the kind of up-close-and-personal erotic experiences that are unforgettable," Dreamcam VP Stan Gearson said. "We are really excited and honored to be presenting a show with one of the hottest stars of today. Wait till you see what the incredible Sybil is capable of."
The rep described Sybil as "the dictionary definition of gorgeous."
"And she's not only a natural in the looks department. In scenes with some of the industry's finest, Sybil has displayed an amazing ability to provide performances that are not only guaranteed to excite, but also live long in the memory," the rep continued. "So, it should come as no surprise that she's already in demand with such channels and studios as LetsDoIt, Babe.com, Colette, Passion HD, Vixen and Tushy."
Sybil herself is "a seasoned VR professional."
"This Independence Day will definitely be going out with a bang," she enthused. "I simply cannot wait to be directed by my fans and see where their imaginations will take me."
Visit Dreamcam, SexLikeReal or Stripchat to join the livestream.
Follow Sybil and Charlie Dean — as well as Dreamcam, SexLikeReal and Stripchat — on Twitter for updates.