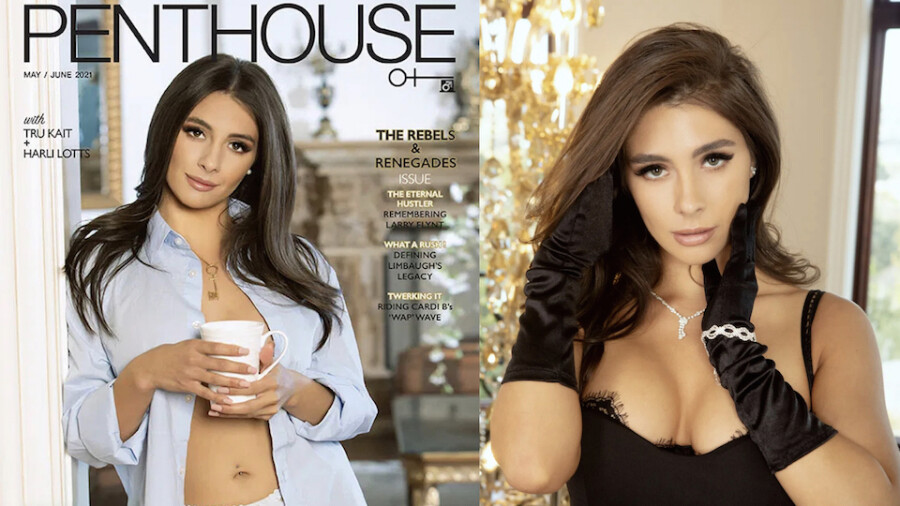 Tru Kait Crowned Penthouse 'Pet of the Month' for May
HOLLYWOOD, Calif. — Clip artist Tru Kait graces the cover of Penthouse magazine as the Pet of the Month for May.
"The May Pet is enjoying a cup of coffee in a light blue oversized men's dress shirt, white panties and her iconic Penthouse Pet necklace," teased a rep.
Shot in a sprawling Los Angeles mansion, "the multi-page spread features SFW and NSFW images that are glam Old Hollywood vibe with a Sophia Loren theme," the rep said. "There's also an exclusive interview that asks her burning questions, including her favorite fantasy and sex positions, turn-ons, music that gets her in the mood, fave food and drinks, what she does in her spare time, and much more."
Kait said the experience has been "a dream come true from beginning to end."
"I felt like a princess from the makeup to wardrobe to the iconic key necklace being placed around my neck," she added. "It's truly an honor, and I'm so excited that the magazine is out. I'm proud of every single shot and hope my fans pick up a copy and enjoy it."
For more on the May/June issue of Penthouse, click here; follow Tru Kait and Penthouse on Twitter.