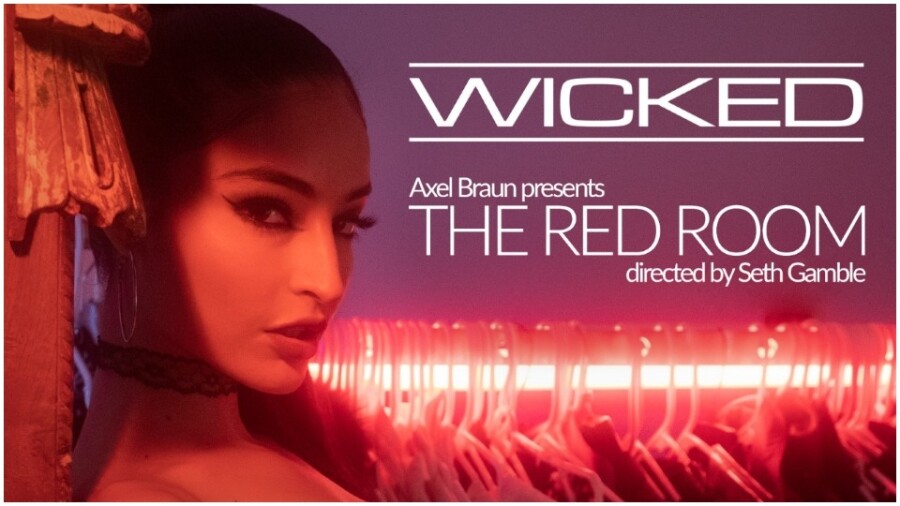 Wicked, Axel Braun Announce Directorial Debut of Seth Gamble
LOS ANGELES — Wicked Pictures Head of Production Axel Braun has announced the release of "The Red Room," the directorial debut of Seth Gamble, led by reigning XBIZ "Female Performer of the Year Emily Willis.
The XBIZ award-winning performer and Gamma Films Group contract star also tapped Aidra Fox, Kenna James and Lena Paul to fill out his cast.
"There is no denying that Seth is a natural-born director," said Braun, who produced Gamble's debut.
"Because of his acting ability, he has been exposed to some of the most talented feature-oriented directors in the industry, and thanks to his sexual prowess, he has performed on hundreds of gonzo shoots," Braun continued. "But Seth doesn't just show up to do his job; he always comes focused on learning as well, and thanks to his kinesthetic personality he can absorb information very quickly. So for the past 15 years he watched closely everything that surrounded a film production, and built an extensive skill set which he can now use to tackle this new chapter in his career."
"When he came to me with the idea for 'The Red Room,' seeing the passion he had and the level of detail with which he was explaining every movement, every camera angle, every transition, I just knew he was ready to take the leap into directing," noted Braun.
"The result is a movie that I am extremely proud of, just like he is. The beginning dialogue sequences are very cinematic and visually acted, with music specifically picked by Seth that set the tone for each scene; he managed to craft a storyline that gave his costars a feeling of empowerment while showcasing not only their best physical assets, but also their individual personalities," he said. "The sex scenes are passionate, real and visceral, and everybody brought all the heat they could bring. After filming wrapped, as every accomplished director does, Seth worked closely with my editor until he was 100% satisfied with the result. This is truly a fantastic directing debut for him, and he's just warming up."
"It's not easy to put into words how excited I am"
Gamble is the first director to be chosen by Braun in his new role as head of production.
"It's not easy to put into words how excited I am," Gamble enthused. "If you had told me I would get to have my directorial debut under the Wicked brand when I did my first Wicked scene in 2009, I wouldn't have believed you."
"I have to give sincere thanks to Axel for allowing me to showcase my creative abilities without restriction; I also want to thank my wife Kenzie Taylor for her support; my makeup artists Dusty Lynn and Lucy Rita; and Claudia Ross for her amazing virtuoso editing," he said.
"I had the fortune of working with several different amazing cinematographers — Andy Zane, Chris Streams, Alex Ladd and, of course, Axel, who all did incredible jobs conveying the vision I was looking for," Gamble continued. "The first thing we discussed when starting this project was to give it a specific aesthetic, I wanted something that popped out. There is something very sexy and erotic about visually using the color red. Also I find that it brings a sense of energy and urgency, which works perfectly with the way the sex scenes are shot."
"I've been in the adult Industry for 15 years and something I've always noticed was there weren't many projects that offered you the enthrallment of a storyline and the visceral nature of gonzo-style sex," he observed. "It's usually one or the other. Usually a feature consists of a storyline followed by voyeuristically shot sex. This is with good reason as with storylines you want to be able to visualize the characters your watching engaged as actors and continue with those characters during the sex without breaking the fourth wall. With gonzo you get that visceral, real sex in your face, so I really wanted to combine the two."
"Throughout my career I have been known primarily for my acting ability, but I truly love performing and giving passionate and powerful sex scenes, and this project gave me the perfect platform to showcase both," he noted. "I wrote, directed and performed in all scenes, and the amount of passion I put into 'The Red Room' is beyond measure."
"Such an Authentic Experience"
Willis shared that she is "super-excited and honored" to appear in Gamble's first scene as a director.
"He really had a very specific vision, and came up  with some great ideas I know how much this project meant to him, and watching him bring it to life was super-neat," she said. "Also, we have great sexual chemistry together so needless to say it was an amazing day. I think you guys will really enjoy this scene."
Gamble described Willis as "the ultimate superstar."
"Our onscreen chemistry is undeniable," he said. "I couldn't have been more honored and grateful to have had her set the tone for 'The Red Room.' One thing we both share is the idea of giving 110% to everything we do, and she brought everything she had in this incredible anal scene. I couldn't be happier with the scene, and look forward to showing everybody how amazing Emily looks and performs in it."
Lena Paul noted the opportunity to appear in Gamble's directorial debut was "truly a pleasure."
"The art direction and concept were so fun and it was one of my favorite scenes I've shot this year," she added.
Castmate Kenna James said shooting with Gamble has been one of her favorite things to do.
"Now that he's not only performing, but also directing, he's absolutely phenomenal," she exclaimed. "He understands things from both sides of the camera and I just know he'll go far as a director, just as he did a performer."
Aidra Fox noted that shooting "The Red Room" was "such an authentic experience."
"I love how there was a mixture of storyline, vignette and also gonzo-style sex. That mixture isn't seen much in our industry and I love how he put it all together, I think everyone who watches this is going to love it because it fits into so many different niches," she said. "This was such a great project and I was so happy to be a part of it."
Gamble, who has brought to live a diverse array of characters for Braun, from Luke Skywalker to Captain Boomerang, Mr. Hyde to Deadpool, offered additional thanks to his mentor.
"Thank you for your friendship, your constant support, your encouragement, and for giving me the opportunity to show everyone my creative abilities, not just in front of the camera but now behind the monitor as well," he said. "Thank you for seeing this in me all along, from the day I first set foot on your set, and for aggressively making sure everyone did, too. None of this would have been possible without you and my gratitude is endless."
Scene One of The Red Room, featuring Gamble and Willis, is now streaming on Wicked.com.