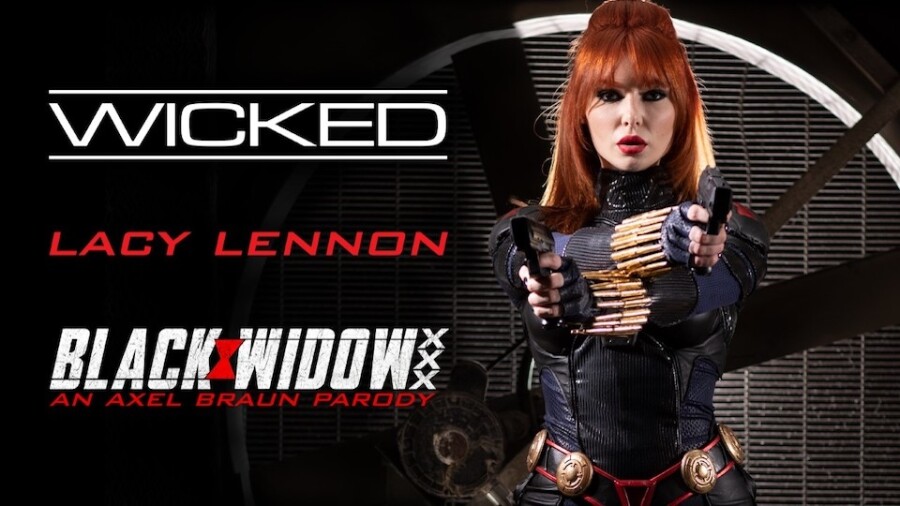 Wicked Releases Climactic Last Scene of 'Black Widow XXX' Parody
LOS ANGELES, CA — Axel Braun has announced the release today of the final scene of his latest entry in the Wicked Comix imprint, "Black Widow XXX: An Axel Braun Parody."
The superhero parody's climax features a four-way scene with Black Widow, Yelena Belova, Taskmaster and Deadpool, played respectively by Lacy Lennon, Elena Koshka, reigning XBIZ "Male Performer of the Year" Ramon Nomar and Gamma exclusive contract performer Seth Gamble.
"I guess you could say we saved the best for last", the director and Wicked Head of Production said. "There's a huge amount of acting in the final scene and once again Lacy showed off some major acting chops in a role that she was born to play. And we finally get to see Deadpool and Taskmaster, plus of course the grand finale with the four-way sex scene. I'm pretty sure the fans will be very happy — it's a highly satisfying conclusion complete with some Easter eggs and even a couple of surprise appearances."
Lacy Lennon on Star-Making Role
Reigning Penthouse Pet of the Year Lennon, a rep commented, "has amassed tons of accolades for her sexual performances and now with the lead in 'Black Widow XXX' she is making it clear that she is a force to be reckoned with in the acting department."
The performer called the fourway "the cherry on top, as many were waiting for the final scene to view [the entire film] in one sitting."
"The wait is over and I personally am over the moon about this release specifically," she added. "The amount of love and support on set makes me emotional. Seth and Ramon are elite in the acting realm of our industry. They helped me overcome hurdles that would have been detrimental to leave out for the viewers. Axel's vision inspires me constantly. He doesn't write these stories for someone to botch them. He writes and casts for execution. As a team we delivered. We delivered with the dialogue, the character transformations and the scene is just outrageously full of energy."
Lennon highlighted her scene with Nomar as Taskmaster. "The attention to detail that Axel put into his costume is why he is the best in the industry," she stated. "You can put fancy store-bought outfits or slap some oil on anybody. It's overdone, lacks creativity and is simply boring. I got to make love as Black Widow with Taskmaster. A visual that we have never seen before — anywhere! I can't wait for the fans to watch this wet, high-energy scene that really does wrap the series nicely. Ramon is one of the few male talents who is able to give what I'm giving. The redhead stigma is sadly true: I devoured this scene and am grateful I got to share it with my favorite fellow performers. Thank you Ramon, Seth and Elena. Without you I know this movie wouldn't be the same. Thank you, Axel, for entrusting me with such a honorable role."
"'Black Widow' is the biggest release this year and a major plus is that, unlike Scarlett Johansson, I'm not suing anyone," Lennon quipped.
An Enthusiastic Supporting Cast
Elena Koshka, who plays the "other" Black Widow and provides much of the comic relief, along with a steamy anal performance, also enthused about her big scene. 
"Working with Lacy was super-fun and very inspiring," she said. "She is such a pro, she fully committed to her role in a way that I had never seen before and delivered an award-worthy performance the makes me honored to have shared the screen with her. Axel's screenplay was wonderful, he created a very funny dynamic between our characters, and Lacy really helped me find my rhythm — I don't think many people realized how hugely talented she is as an actress, but I'm pretty sure this movie will send that message loud and clear."
The scene also featured the long-anticipated return of Deadpool, played with gusto by Seth Gamble, reprising his XBIZ award-winning role.
"Seth was hysterical as always" said Braun, with whom Gamble has successfully collaborated in dozens of projects over the past 10 years. "It's crazy, the moment he puts on that costume he actually becomes Deadpool. He moves like him, he talks like him, I'm pretty sure he even thinks like him. He improvises a lot, and it's always hilarious to the point where somebody inevitably cracks up in the middle of the scene and we have to reshoot it — and then he does something different again. It's such a hoot, and I'm so grateful that I get to work with such a talented actor." 
"I'm always excited come back as Deadpool," said Gamble. "Getting to act and perform with Lacy, Elena and Ramon was definitely a highlight for me. Lacy was phenomenal and delivered a 'Best Actress' performance, Elena is gorgeous and really funny, and Ramon totally got into the Taskmaster character to the point where I forgot it was him. I have to say we've had some hilarious moments with Deadpool before, but the way Axel wrote this scene was the best one yet."
"Ramon always brings a calm energy to the set" said Braun of his friend and frequent go-to stud. "He is such a charismatic presence, and he's always so positive and encouraging. For being one of the top performers in the world, he is amazingly down-to-earth and willing to go above and beyond the call of duty, and that's an admirable quality. I always feel lucky to have him in my projects."  
"Playing Taskmaster was so much fun," said Nomar, a veteran of many Braun parodies. "This is a character that teaches you to learn from other people's powers and skills, which is interesting because being on set with Axel is always a great learning experience. Lacy was incredible, I mean, this woman is such a good actress that she could have a mainstream career, and our sex scene was — well, you'll see."
The final scene of Black Widow XXX: An Axel Braun Parody is now streaming online at Wicked.com.