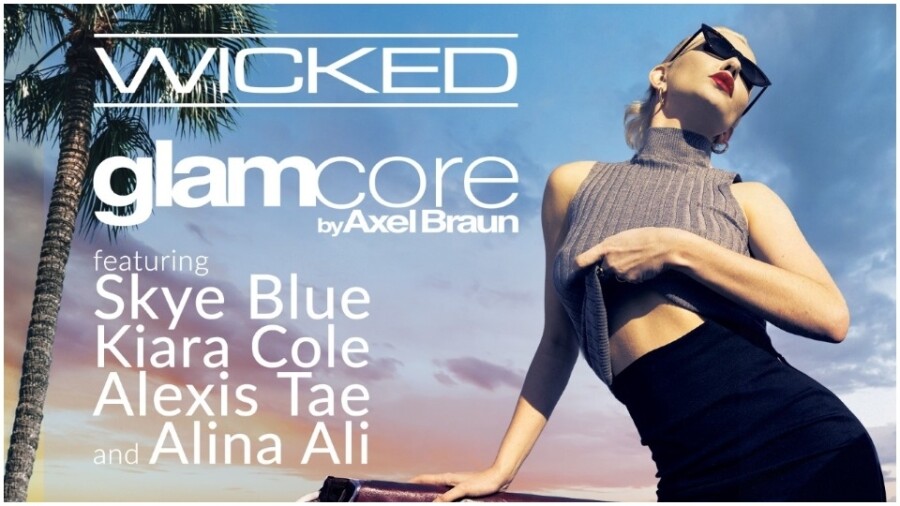 Wicked Rolls Out Red Carpet for Axel Braun's 'Glamcore'
LOS ANGELES — Wicked Pictures is rolling out the red carpet for "Glamcore," the first volume in a new series that "pledges to bring glam back to adult filmmaking," noted a studio rep, from multi-award-winning XBIZ "Director of the Year" Axel Braun.
"Glamcore is like a fashion magazine come to life, just with hardcore sex in it," the filmmaker explained. "It's a project that I've been wanting to tackle for a few years now, rooted in my own experiences growing up in Milan, the fashion capital of the world. It's very upscale, very classy and visually engaging, with a lot of emphasis on style and details. I was able to work with a massively talented mainstream fashion photographer who captured some incredible images, and of course I was very lucky with the cast; the girls all look like top models and each of them brought their own personal brand of sensuality to the plate."
"Glamcore" is Braun's second release since he was named Head of Production following the acquisition of Wicked by Gamma Entertainment.
His recent titles include "Axel Braun's Going in Raw," Wicked's first non-condom movie in nearly 20 years. On the boards is "Black Widow XXX: An Axel Braun Parody," set for a July release.
A rep said the beauteous cast of "Glamcore" includes "stunning fashion model-turned-adult-star Skye Blue, who graces the box cover in a magnetic shot reminiscent of Old Hollywood transgressions; sultry Kiara Cole; goddess Alexis Tae; and stunning newcomer Alina Ali."
Will Pounder, John Strong, newly signed exclusive Seth Gamble and reigning XBIZ "Male Performer of the Year" Ramon Nomar fill out the cast.
The women enthused about their "Glamcore" experience.
"Although there is no dialogue in my scene, Axel's directing made me feel as if I was a part of a real story," said cover starlet Blue. "And the driving/solo sequence in the vintage Mercedes was just a perfectly captured L.A. moment. So unique and so beautiful."
Ali echoed her castmaste's excitement.
"Filming 'Glamcore' with Axel was so cool," she gushed. "He is brilliant, has amazing ideas and he's so eclectic. I am very grateful to have had the opportunity to work with this legendary director and make some magic."
Tae, who recently worked with her director on the foot-centric "Axel Braun's Sole Mates," described her shoot as "such a fun day."
"Getting glammed-up just makes me want to put on the best show and being paired with Seth was perfect to bring that out," she said.
Cole made her studio debut with her scene.
"I had so much fun shooting 'Glamcore,' I really couldn't have asked for a better Wicked debut," she said. "Some of the intro and photos were shot on a busy overpass in Los Angeles; it was pretty risqué, but I really loved the thrill. It was definitely one of my favorite scenes to shoot. The glamorous hair, makeup, wardrobe and nasty, filthy, gonzo sex really did it for me."
"Axel and his crew are true professionals, and I was so happy to be cast with John," she added. "I just truly loved the overall theme for this movie and I'm super-excited for my fans to be able to buy this DVD."
Braun praised his male cast, noting Gamble "delivers a powerful performance."
"Seth is obviously known for his acting ability," said the director of his protegè, who has starred in many of the director's acclaimed projects over the past decade and will play the title role in the upcoming "The Batman XXX."
"But he's seriously grown into a top performer, as evidenced by his 2020 XBIZ 'Male Performer of the Year' award," Braun continued. "Needless to say, being able to have him exclusive with the company is a huge privilege. He's the full package and I couldn't be happier to continue working with him."
"Glamcore" is now in wholesale and retail release; direct inquiries to Bonnie Kail at bkail@pulsedistribution.com or call (818) 435-1611.
Visit Wicked.com and follow the studio on Twitter.