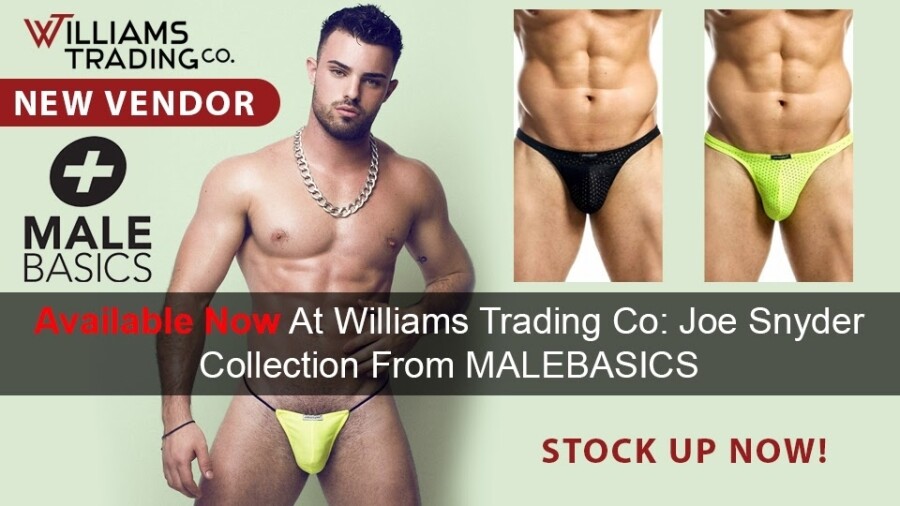 Williams Trading Adds 'Joe Snyder' Line From MaleBasics
PENNSAUKEN, N.J. — Williams Trading Co. is now offering 15 new items from the Joe Snyder line from MaleBasics, including thongs, G-strings and bulge enhancers.
"One of the most recognized men's underwear brands in the world, the Joe Snyder line is now a leader in the luxury men's underwear department," noted a rep. "Since 1958, Joe Snyder had one mission: to provide quality-made underwear in bright colors and eye-popping prints for the style-conscious man. Since then, it has offered undies made from a soft blend of 80% nylon and 20% spandex/lycra that fits like a glove."
Director of Marketing & Sales Scott D has noted "a growing demand for more male-oriented, quality underthings, and we decided to expand our offering with the Joe Snyder collection from MaleBasics due to selection, quality and brand recognition."
The rep noted the collection, designed in Mexico, can be worn as both underwear and swimwear. 
"Wearing Joe Snyder keeps your sex appeal in check with body-contouring designs and bright colors that stand out," they said. "Joe Snyder underwear has been a best-selling menswear line in Mexico for decades, and its introduction to the North American market has garnered excellent reviews."
For additional information, contact a preferred sales representative at (800) 423-8587 or visit Williams Trading online. For drop shipment and e-commerce support, click here.
Follow the company on Twitter and XBIZ.tv.