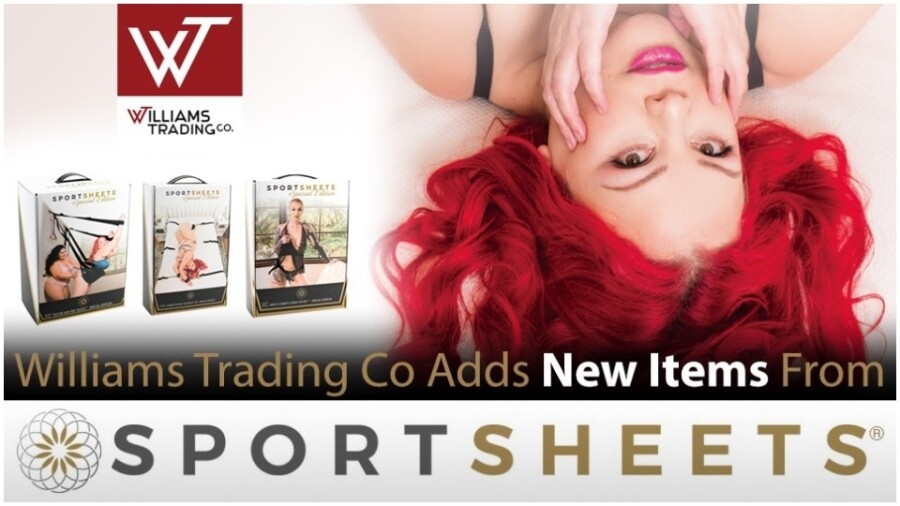 Williams Trading Adds New Items From Sportsheets' 'Saffron', 'Special Edition' Lines
PENNSAUKEN, N.J. — Williams Trading Co. is now offering an array of products from Sportsheets' Saffron and Special Edition collections, such as the Under the Bed Restraint System.
The SKUs from the Special Edition line include the Door Jam Sex Sling, the New Comers Strap On Set and the Cuffs & Blindfold Set.
The products in the Special Edition line are "upgraded versions of Sportsheets' most popular products," a rep explained, with the addition of extra straps in the bed restraint set, a dildo and bullet anchor pad in the door swing, padded bondage cuffs that can be used alone or with a spreader bar (not included) and a beginner's strap on harness with an included slim, 5.25-inch silicone probe that is "perfect for those new to pegging play."
"The Special Edition products all feature high-quality materials, and the addition of gold hardware make these items look luxurious and expensive — but are priced to sell," added the rep.
SKUs from the Saffron line include the Spreader Bar & Cuff Set, Hoe Tie & Cuff Set, Acrylic Spanker, Acrylic Paddle, Studded Spanker, Flogger and Braided Flogger.
"Each of the new items in the Saffron collection features the line's signature red and black faux leather, and the new acrylic items meant for impact play offer a unique implement that will deliver a heavy sting," the rep noted. "These new additions to the Saffron line round out the collection, giving consumers a wide selection of well-crafted, luxurious bondage items to choose from."
For additional information, contact a preferred sales representative at (800) 423-8587 or visit Williams Trading online. For drop shipment and e-commerce support, click here.
Follow the company on Twitter and XBIZ.tv.